The Highest Mountains of Caucasus
Another mountainous and highest region of Georgia is Svaneti. Its long way from the capital Tbilisi but unlike Tusheti and Khevsureti Svaneti can be accessed all year round and actually offers amazing skiing opportunities in winter time. For more information about skiing in Svaneti please visit our Svaneti Ski Resorts page.
Beautiful, wild and mysterious, Svaneti is an ancient land locked in the Caucasus, so remote that it was never tamed by any ruler. Uniquely picturesque villages and snow-covered, 4000m-plus peaks rising above flower-strewn alpine meadows provide a superb backdrop to the many walking trails. Svaneti's emblem is the koshki (defensive stone tower), designed to house villagers at times of invasion and local strife (until recently Svaneti was renowned for its murderous blood feuds). Around 175 koshkebi, most originally built between the 9th and 13th centuries, survive here today. Architectural monuments of Upper Svaneti are included in a list of UNESCO World Heritage Sites.
Svaneti is the highest inhabited area in the Caucasus (Village Ushguli highest permanently inhabited village in Europe). Four of the 10 highest peaks of the Caucasus are located in the region. The highest mountain in Georgia, Mount Shkhara at 5,201 meters, is located in the province. Prominent peaks include Tetnuldi (4,974 m), Shota Rustaveli (4,960 m), Mount Ushba (4,710 m), Ailama (4,525 m)
Svaneti is divided in two parts corresponding to two inhabited valleys:
- Upper Svaneti on the upper Inguri River; administratively part of Samegrelo-Zemo Svaneti; main town Mestia
- Lower Svaneti on the upper Tskhenistsqali River; administratively part of Racha-Lechkhumi; main town Lentekhi
They are separated by the Svaneti Range which is almost as high as the main Caucasus range. Historical Svaneti also included the Kodori Gorge in the adjoining rebel province of Abkhazia.
Upper Svaneti offers the best walking and climbing as well as the strongest traditions. The walking season lasts from about early June to mid-October.
The landscape of Svaneti is dominated by mountains that are separated by deep gorges. Most of the region which lies below 1,800 meters above sea level is covered by mixed and coniferous forests. The zone which extends from 1,800 meters to roughly about 3,000 meters above sea level consists of alpine meadows and grasslands. Eternal snows and glaciers take over in areas that are over 3,000 meters above sea level. The region is notable for its glaciers and picturesque summits. Svaneti's signature peak is probably Mount Ushba which towers over the Inguri Gorge and can be seen from many parts of the region.
The climate of Svaneti is humid and is influenced by the air masses coming in from the Black Sea throughout the year. In general, upper Svaneti experiences short, cool summers and long and cold winters. Due to Svaneti's close proximity to the Black Sea, the region is spared from the extremely cold winter temperatures that are characteristic of high mountains.
During the many invasions of Georgia over the centuries, icons and other religious valuables were brought to this isolated region for safekeeping, and a significant number remain in private homes today. Svaneti also has a rich church-art heritage of its own, and many tiny village churches boast frescoes 1000 years old. This mountain retreat, with its own unwritten language, largely unintelligible to other Georgians, is regarded as a bastion of Georgian traditions, as can be witnessed at the numerous Svan festivals of which probably the most famous is Kvirikoba.
The Svans have retained many of their old traditions, including blood revenge. Their families are small, and the husband is the head of his family. The Svan really respect the older women in families.
Svan culture survives most wonderfully in its songs and dances. Svaneti boasts arguably the most archaic three-part polyphonic singing. Most of their songs are connected to round dances, are performed very loud and are full of dissonant chords
The Svans had been known as fierce warriors for centuries.
Typically bilingual, they use both Georgian and their own, unwritten Svan language, which together with the Georgian, Mingrelian, and Laz languages constitute the South Caucasian or Kartvelian language family. The Svan language is endangered and is being largely replaced by Georgian.
Getting to Svaneti:
The main road leading into the region comes from Kutaisi through Zugdidi.
Public Minibuses go to Mestia every day from Tbilisi (Didube bus station, approximately 8 hours drive), Kutaisi and Zugdidi.
A new airport in Svaneti - Queen Tamar Airport - has recently opened, and flights to Mestia are now available and operated by air company Serviceair, by air plane LET 410-UVP.
Flights from/to Tbilisi (Natakhtari airfield) are available 4 times a week. Ticket price is 65 GEL one way. Price includes free transfer from Tbilisi, M.S. Rustaveli and back. Transfer point is nearby Metro Station Rustaveli, near the fountain.
As of March 2016 there is a flight from/to Kutaisi available 2 times a week. Ticket price is 40 GEL one way.
Complete schedule:
Tbilisi to Mestia: Mon,Wed,Fri - 9:30 AM, Sun - 1:00 PM
Mestia to Tbilisi: Mon,Fri - 3:30 PM, Wed - 11:30 AM, Sun - 3:00 PM
Kutaisi to Mestia: Mon,Fri - 1:30 PM
Mestia to Kutaisi: Mon,Fri - 11:00 AM
The registration time is one hour before the flight. Flight duration is one hour. Depending on weather conditions compliant to Visual Flight Rules VFR, flight can be postponed or cancelled (full refund). Limit of the hold luggage and for carry-on baggage in total is 15kilos /per person. It's impossible to pay for extra luggage but if there is free place on board, you can take your baggage along free of charge.
Reservations can be done at guesthouse PeakMazeri: info@hotel-svaneti-mestia.com
And travel agency Vanilla Sky in Tbilisi (office: 5 Vazha Pshavela ave. Tbilisi, mari@vanillasky.ge, T. (+995 32)2 427 427)
There is always a high demand for tickets, so reserve tickets long in advance. For example, by the end of July 2015 the only tickets from Mestia to Tbilisi left were for the end of August. If no tickets are available, ask to be on the waiting list.
Getting Around in Svaneti:
There is some very basic and inconvenient minibus service from town to town, but it's generally easier to hire a taxi to get from point A to B. Hiking from town to town is also very much possible, and considerably more exciting, There is a flagged path from Mestia to Ushguli passing through several villages, the tourist information in Mestia can give additional information (but no map!). Locals are usually friendly and are used to walkers and mountain-climbers. If you're trying to get to the next village or to a trailhead, you shouldn't have too much trouble hitch-hiking.
But the most convenient and recommended is to hire a car and drive yourself all the way through Svaneti villages.
General recommendation:
In general, Svans are mountain people who highly appreciate their traditions and also respect and love guests, in return they ask for similar respect. Common security precautions should be attended. And visitors should be especially careful if they decide to drink with the locals.
Below we describe all main highlights and attractions one should visit during the travel to the region.
Total Length: 525km; 10.5 hours without traffic.
And here is the link for directions on Google Maps: https://goo.gl/maps/jBLp2BaMYtS2 + https://goo.gl/maps/wC3soAXooCz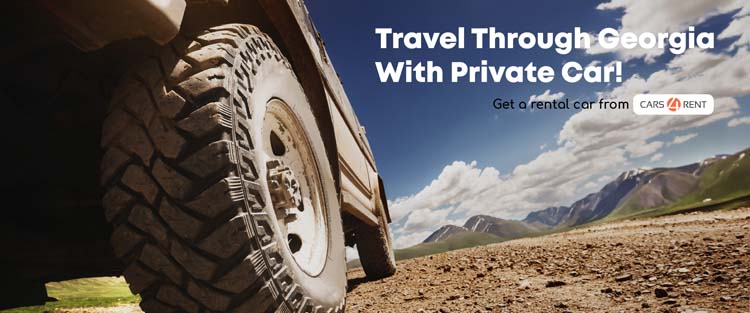 The Inguri Dam is a hydroelectric dam on the Inguri River on the way to Svaneti. Currently it is the world's second highest concrete arch dam with a height of 271.5 meters (891 ft). It is located north of the town Jvari, very near town Zugdidi. It is part of the Inguri hydroelectric power station (HES) which is partially located in Abkhazia, the separatist region of Georgia.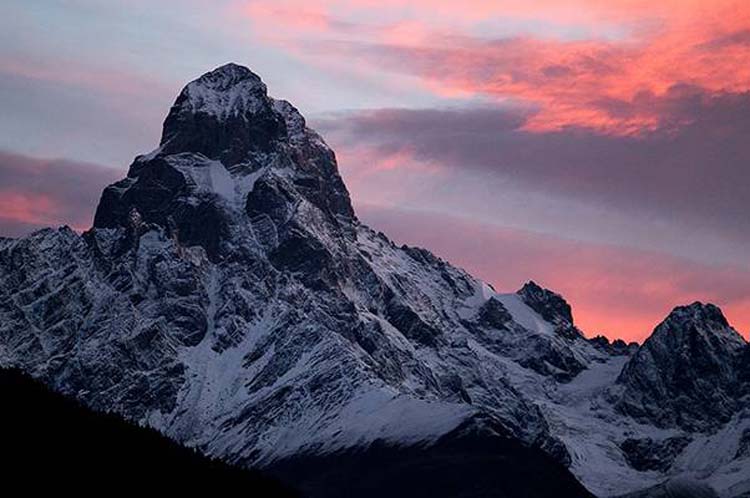 Village Mazeri is a small last village in the Becho villages range near Mestia. The area offers best views of Mt. Ushba from the south side and some beautiful treks to Ushba glacier and waterfalls and over the Guli pass to Mestia.
For more information on treks we recommend website:
Caucasus Trekking - Svaneti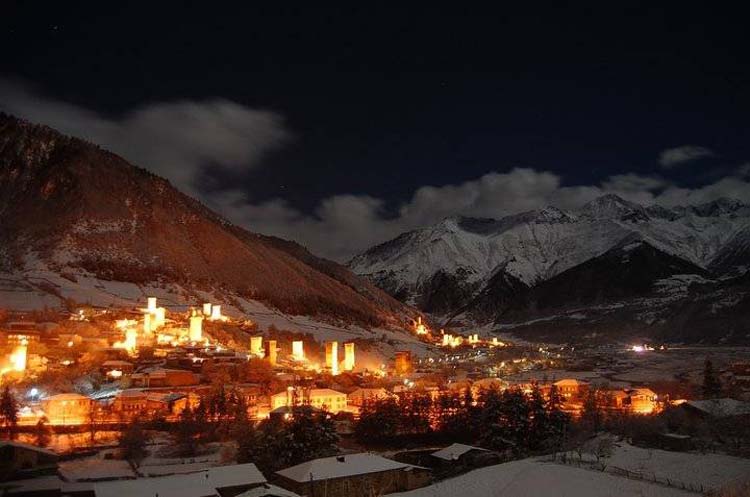 Mestia is the main town in Upper Svaneti region, at an elevation of 1,500 meters.
It is popular tourist destination with good infrastructure of guesthouses, hotels, bars and cafes, especially crowded in summertime.
While in Mestia do visit:
- Mestia Ethnographic Museum, with beautiful treasures of the region from middle ages: icons, jewelry and traditional instruments
- Svan Towers and Svan house museum, typical traditional Svan tower (always open and free to climb, even to the roof) and hose museum where Russian speaking guide explains how local families lived in the past.
- Mineral water springs - very tasty and healthy (best for hangovers) slightly carbonated mineral waters near Mesta museum
- Challadi Glacier - not far from Mestia, beautiful and easy trek to the Challadi glacier.
More info about the trek here:
http://www.caucasus-trekking.com/treks/chalaadi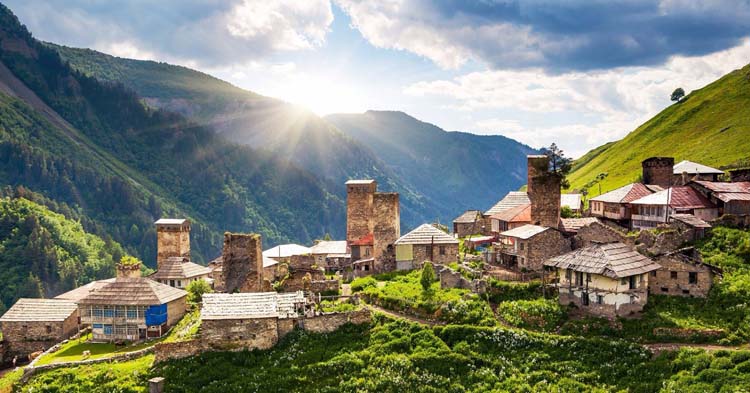 Remote beautiful small village at the foots of Mt.Tetnuldi on the way on a trek Mestia - Ushguli.
For details about the trek please see: http://www.caucasus-trekking.com/treks/mestiaushguli
Near village Kala on the road to Ushguli, in our opinion one of the best churches in the area. Always locked so if you would like to see it from the inside you should find family keeping the key (ask around in the village). The member of family will accompany and unlock the church, instead he will expect a contribution of approximately 40-50 GEL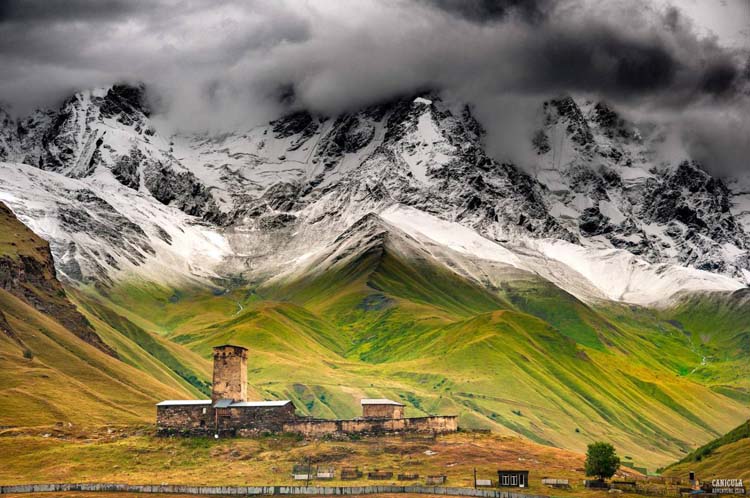 Ushguli is a community of four villages located at the head of the Enguri gorge. Recognized as the Upper Svaneti UNESCO World Heritage Site, Ushguli is one of the highest continuously inhabited settlements in Europe. Compared to more developed town Mestia, Ushguli has been "saved" by its particularly inaccessible location, which helped preserve the villages' timeless feel.
Ushguli is located at an altitude of 2,100 meters near the foot of Shkhara, one of the highest summits of the Greater Caucasus Mountains. About 70 families (about 200 people) live in the area, enough to support a small school. The area is snow-covered for 6 months of the year, and often the road to Mestia is impassable.
Typical Svaneti defensive towers are found throughout the village. The Ushguli Chapel - LaMaria Church, located on a hilltop near the village dates back to the 12th century.
Do visit Ushguli Museum and trek to Shkhara Glacier (trek details: http://www.caucasus-trekking.com/Treks/shkhara).
To sum up here is the list of top things to do in Svaneti:
- Visit Mestia History and Ethnography Museum
- Learn about famous Georgian Alpinist Mikheil Khergiani and in General the beginning of Georgian Alpinism by visiting Mikheil Khergiani Museum in Mestia
- Visit Typical Svaneti tower house museum in Mestia
- Trek to Chalaadi Glacier
- Visit village Mazeri and trek to Ushba waterfalls
- Visit villages Adishi & Ushguli
- Try to visit local churches (e.g. St. Kvirike church) near village Kala
- Trek to Ushba Glacier
- Enjoy the views of Ushba from Hatsvali range (you can get there by a lift)
- Enjoy views from Tetnuldi by going up the Tetnuldi Ski lift
- Try local dishes especially Kubdari (so far best place is restaurant Laila in center of Mestia)
- Check out more options in this article by Georgia Starts here