Highest Mountains & Magical Atmosphere
Svaneti starts to be the major Georgian magnet for mountain lovers not only in summer, but also in winter. Previously tourists, especially those who are fond of hiking and exploring ancient cultures, headed to this remote mountainous region from July to late September. Now, proud Svanetian people welcome their guests from late December till the end of April too.
Surrounded by the highest mountain peaks, covered with legends and myths about hallowed local traditions, Mestia is the heart of the region. From here, routes to further destinations in Svaneti begin. Mestia is also convenient point to stop for overnights and move towards ski lifts, equipment rentals, marked pistes, and virgin slopes. Staying overnight is possible there or in the other villages nearby. In Mestia, you can find simple guest-houses and mid-range cozy hotels.
First Svanetian resort, Hatsvali was opened in 2011 it is 8 km away from Mestia and since 2017 can be reached by a cable car from edge of Mestia. Hatsvali offers runs for beginners and intermediates. Lower lift station is located at an altitude of 1865 meters; the equipment rentals are nearby. Leitner ski lift will take you up to the mountain Zuruldi (2347 meters above sea level) within 10 minutes. At the resort there are also two smaller ski lifts 600 and 800 meters long. There are three pistes in use: red (1900 m), blue (2600 m) and one for the beginners (300 m). If you are for extreme feelings, go ahead with freeriding, backcountry, and skitour.
The second Svanetian resort, is in use since December 2015. Its name derives from name of legendary mountain. Located 15 kilometers away from Mestia, Tetnuldi is almost as big as Gudauri. There are three new POMA lifts, which bring up the guests to the altitude from 1600 to 3165 meters, and several developed pistes with the longest one 9.5 km long. Tetnuldi provides excellent opportunities for freeriding and truly stunning views to the surrounding.
Apres-ski and accommodation are located in Mestia, so you would need to drive up to the resort. However, the low cost of equipment rental and ski passes smoothes this temporary inconvenience.
Info About Svaneti Resorts Ski Pass Prices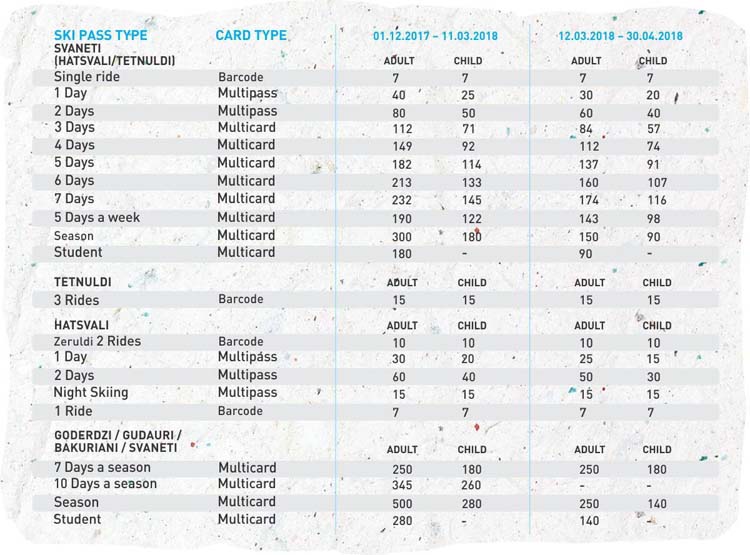 2017 - 2018 Ski Season Opening Dates: Tetnuldi - 2017 December 17; Hatsvali - 2017 December 17
NEW!! Cable car connecting Mestia with Hatsvali will start operating in 2017 December 23
Main Slopes: Hatsvali & Tetnuldi
Ski Lifts Working Hours: 10:00 - 16:00
Ski Area: Hatsvali highest - 2347m & lowest - 1865m; Tetnuldi highest - 3165m & lowest - 1600m
Vertical Drop: Hatsvali - 550m; Tetnuldi - 900 m
Length of Tracks: Hatsvali - Total 4.8km, (red-1.9, blue - 2.6 and one for the beginners 0.3); Tetnuldi - Total 25km.
The Length of the Longest Track: Hatsvali - 1.9km; Tetnuldi - 9.5km.
Ski Lifts: Hatsvali - 1 T-Bar; Tetnuldi - 3 POMA; Hatsvali-Mestia - 6 Deoppelmayer.
Distance to Mestia: From Tbilisi - 480 km; From Kutaisi - 240km; Batumi - 270km; Zugdidi - 140km.
Here is a great new short fim about skiing in Svaneti, Georgia and Mt. Ushba.
Produced by: The North Face
Ski team: Leo Slemett, Sam Anthamatten, and Markus Eder
Hatsvali Ski Map




Tetnuldi Ski Map