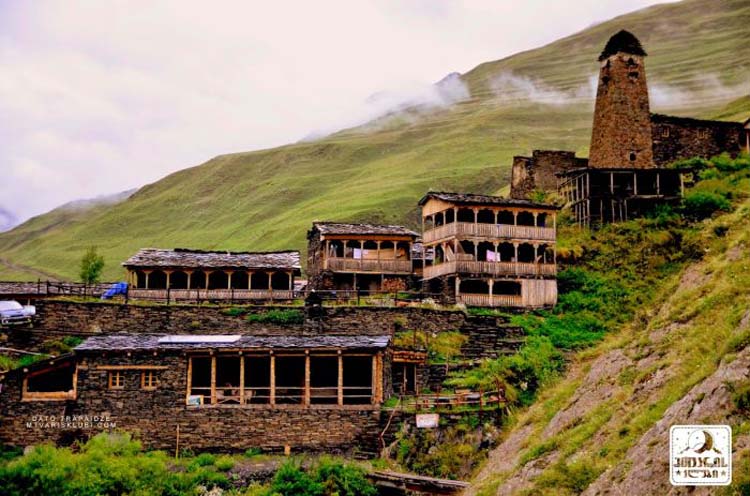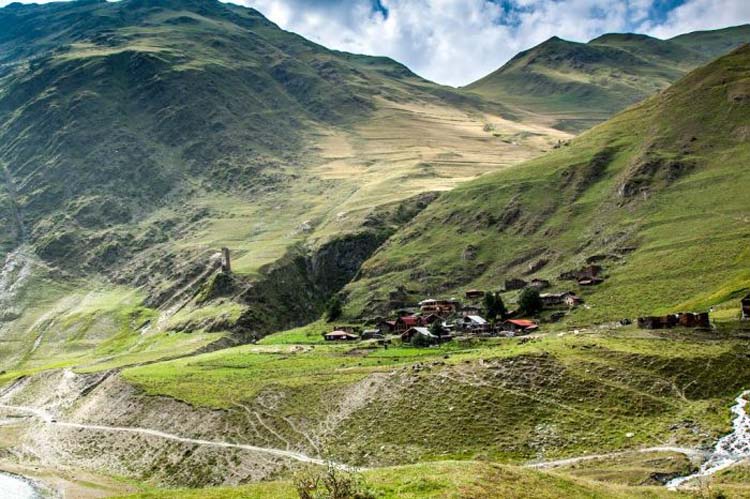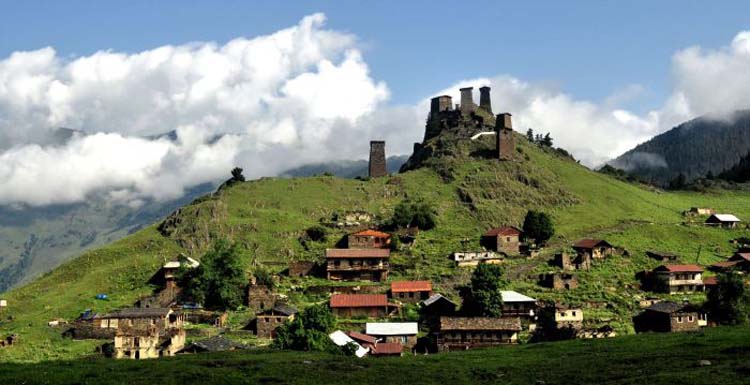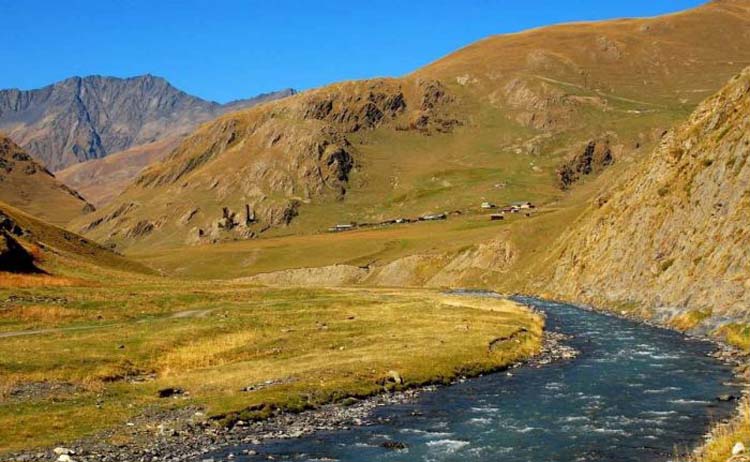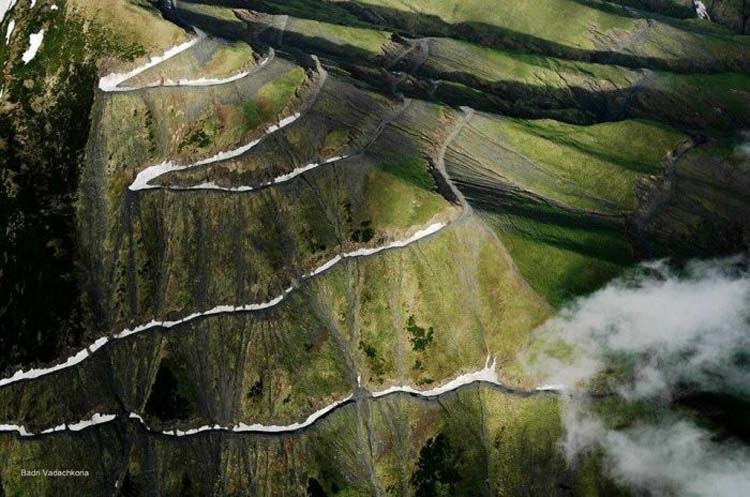 Tour example to Tusheti
TRIP 4: TUSHETI
Located on the northern slopes of the Greater Caucasus Mountains, Tusheti is bordered by the Russian republics of Chechnya and Dagestan to the north and east and by the Georgian historic provinces Kakheti and Pshav-Khevsureti to the south and west, respectively.
One of the most remote and hardly accessed and at the same time interesting and authentic mountainous regions of Georgia (only accessible during summer time).
More info about the region and covered highlites:
Tusheti Region
Total Length (roundtrip): 457 km + approximately 100km
Total Duration: 4 days


Highlights Covered
- Village Omalo
- Village Shenako
- Village Dartlo
- Village Parsma
- Village Girevi
- Village Chontio
- Village Jvarboseli
- Village Indurta
Detailed Itinerary
Day 1
- Omalo, Shenako
Omalo is a main village of Tusheti.
It is located on a natural plateau, connecting 4 main gorges: Chanchakhovani gorge, Chaghma gorge (with the villages Omalo, Shenako and Diklo), Pirikiti gorge (with villages Dartlo, Chesho, Parsma and Girevi), and Gometsari george (with villages Dochu, Beghela, Jvarboseli and Verkhovani).
The fortress of Keselo with its towers is a landmark in Omalo. It served as refuge for families when attacked. In Omalo you will find many guesthouses and a tourist information center where you can get maps and information about the whole area.
08:00 Departure to Tusheti
13:00 Picnic lunch on the way
15:00 Arrival at Omalo (visit to tourist info center)
17:00 Arrival to Shenako (overnight)



Day 2
- Dartlo, Parsma, Girevi
This day will be dedicated to exploring Pirikiti Gorge.
Dartlo is the most popular village in Tusheti and one of the biggest. Its situated on the beautiful alpine slopes of Caucasus Mountains at the level of 1850m; Apart from well preserved towers and stone houses here you will find lots of homestays, cafe with a perfect location, camping areas, tasty mountain cheese, view to waterfall, interesting petroglyphs. There are both Pagan and Christian religious buildings in Dartlo which are both considered as sacred. Dartlo used to be the main village to hold the court and council for the whole region.
Currently, 9 familys live in Dartlo. Don't miss visiting abandoned village Kvavlo overlooking Dartlo. Short but steep ascend from 1850 to 2150
09:00 Departure to Dartlo
11:00 Walk up to Keselo, lunch in Dartlo
15:00 Departure to Parsma and Girevi
18:00 Arrival at Girevi, overnight
Girevi is a last inhabited village in the valley, has several guesthouses and a military blogspot. can be reached by crossing the river by car or rocky narrow trail by foot.

Day 3 - Chontio, Jvarboseli
09:00 walk to Chontio
14:00 Lunch in Girevi or on the way
15:00 Departure to Jvarboseli
17:00 Arrival to Jvarboseli, overnight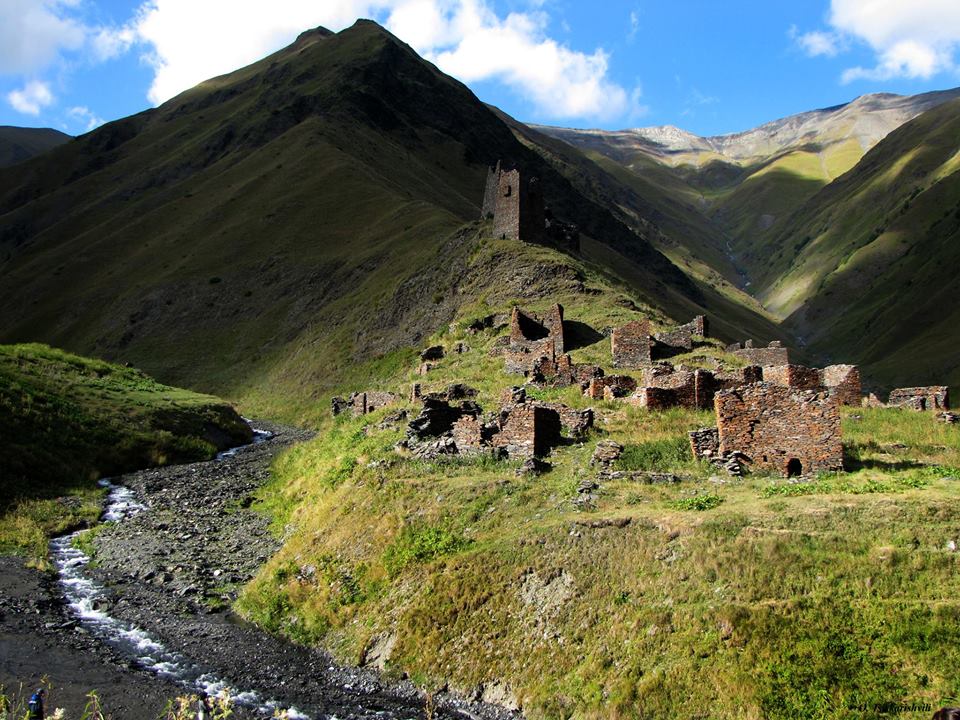 Day 4
- Indurta, Tbilisi
Indurta is the last village of Gometsari Gorge and one of the most mystical and abandoned ones of Tusheti.
09:00 Drive to Indurta
12:00 Return to Tbilisi, lunch on the way (7 hours)
End of Trip
Important Notice
This is an example of a trip to Tusheti area.
We have displayed optimal timing to cover all interesting highlights on the way.
We do not implement this tours and all travelers can use this information as guidance.
We hope it will be useful and you will enjoy your time :)