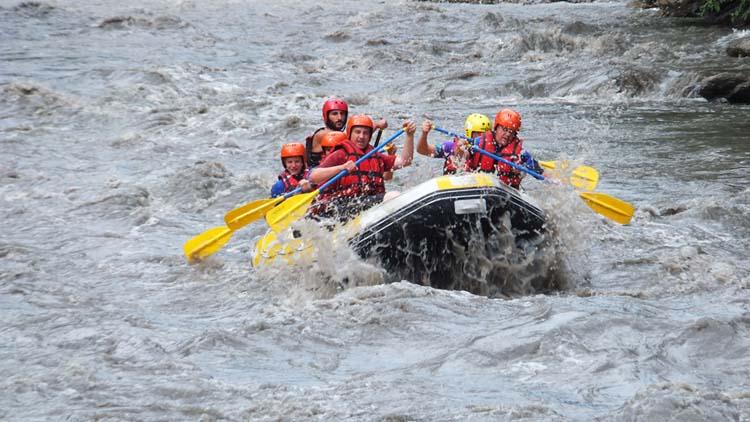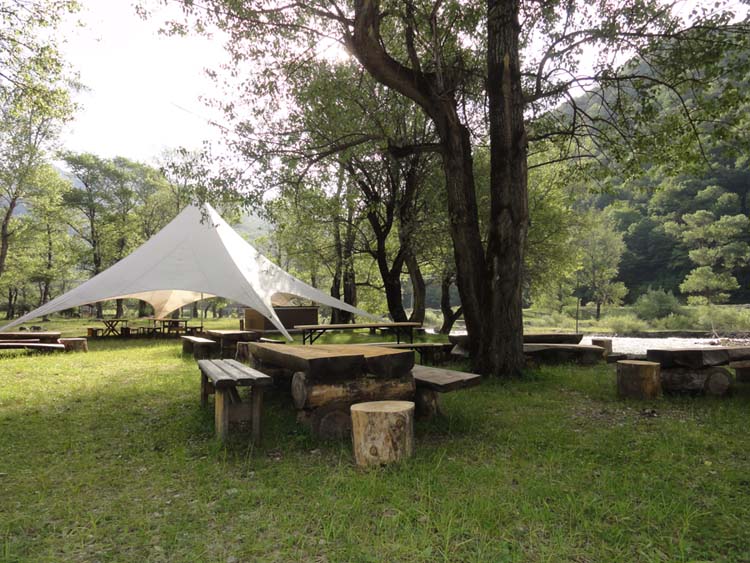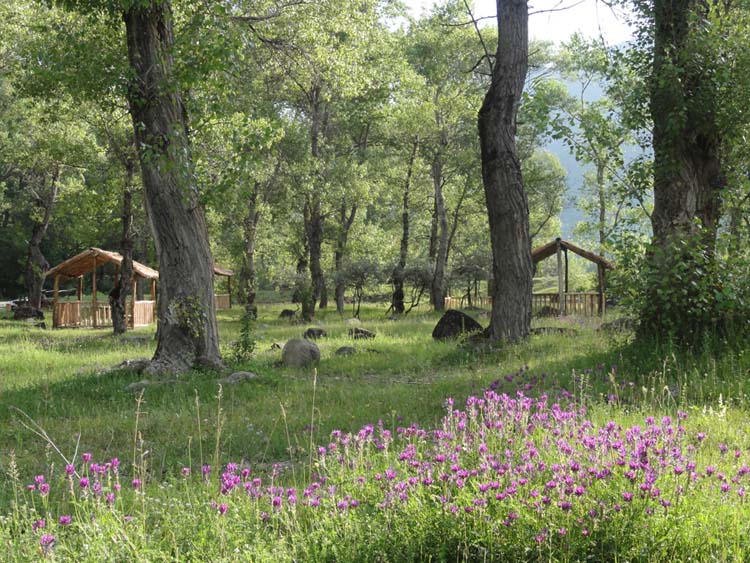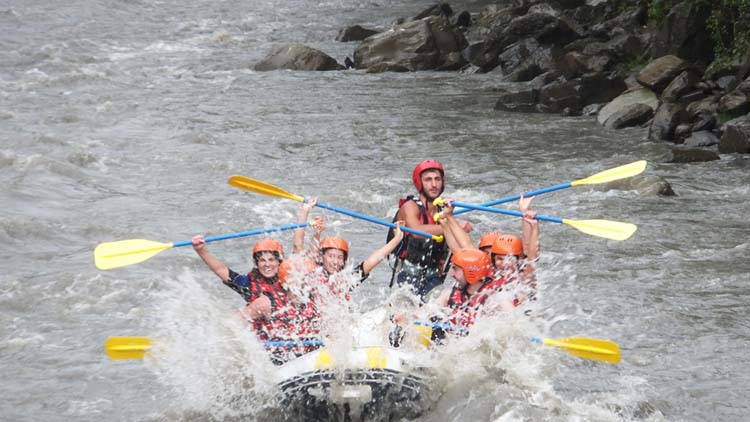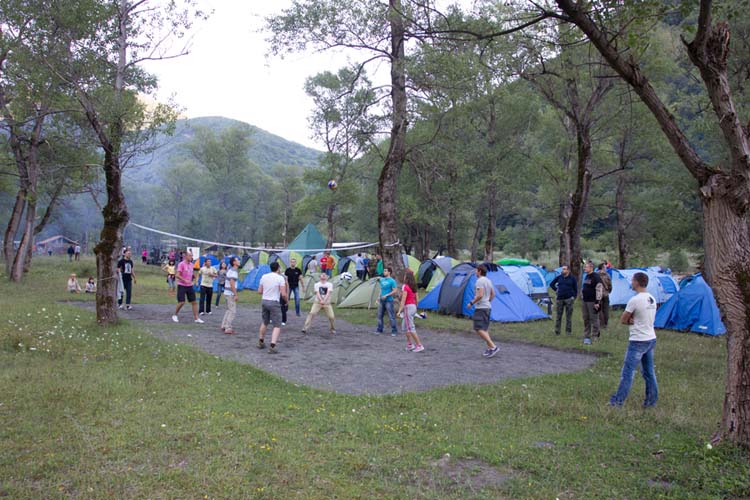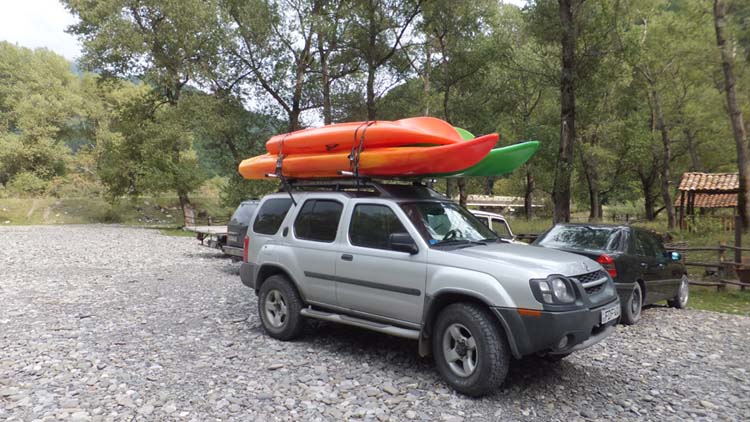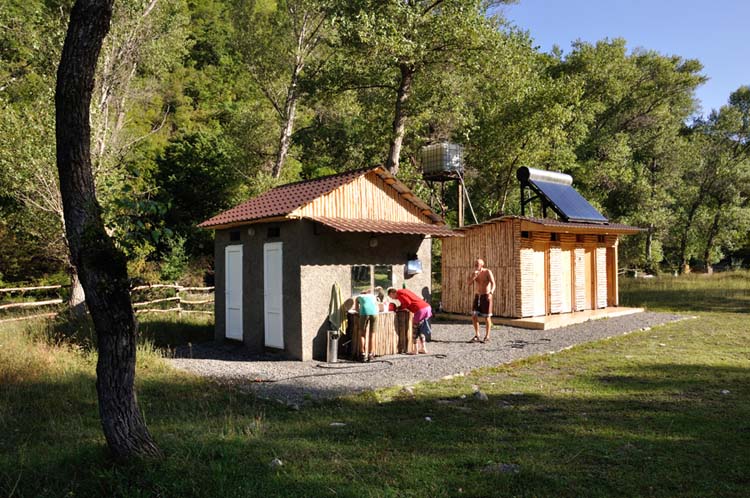 Chase a Rush of Adrenaline!
RAFTING
Whitewater rafting is a recreational outdoor activity which uses an inflatable raft to navigate a river.
Rafting generally represents a new and challenging environment for participants. Dealing with risk and the need for teamwork is often a part of the experience.
Rafting vacations are the ultimate way to escape the grind, disconnect and spend quality time with friends or loved ones, or even make new lifelong friends. Not only that, there is no better way to experience some of the most scenic and remote wilderness areas and seldom-seen landscapes.
Georgia offers several levels of rafting difficulty on its main rivers. Starting from 2-3 on different locations of Aragvi to 2-4 on River Mtkvari up to 2-5 on river Rioni.
Longest rafting route located on River Rioni is more than 30km long and takes 2 days of journey with one night camping break going through the most beautiful parts of Georgia.



Aragvi Adventure Center is located in an idyllic forested valley in the Greater Caucasus mountain range in Mtskheta-Mtianeti Region of Georgia. The cosy camp nestles on a wooded bank of Pshavis Aragvi River just before it flows into the radiant emerald lake of Zhinvali Reservoir.
The adventure center is not just a campsite but it is also a fun-filled picnic spot and the base for rafting, kayaking, hiking and biking tours. With its unique concept of active recreation and promotion of local rural development, Aragvi Adventure Centre is the first of its kind in Georgia.
Set within just 60 km distance from Tbilisi (1h drive), the center is equally suitable for a day's outing or a relaxed weekend in the mountains or makes a perfect stopover on a multiple day tour into the Kazbegi Region (Stepantsminda / Mt Kazbek) and Khevsureti (Shatili). To reach the Center, please follow the description (add link to description and map under Contacts) or the coordinates GPS 42°13'13.80"N / 44°49'55.60"
1 Day Rafting
The descent down the whitewaters in inflatable boats is a fun sport that attracts more and more people across the world and is well established in Georgia for more than 10 years. Starting from Aragvi Adventure Center, our Rafting Tours are carried out on the river Pshavis Aragvi (15 km, 1h30min, cat. II-III), a tour with moderate difficulties that is enjoyable for everyone but nevertheless presents sufficient action to get splashed and be thrilled. The finish / take out is directly at the Center .
As you will be accompanied by experienced guides, there are no preconditions concerning physical fitness and you will be equipped with life jackets and helmets to avoid injuries in the rather unlikely event of falling into the water. However, you should know how to swim, be in good health and not be under influence of drugs or alcohol. Also, it is important to bring sturdy shoes that can handle wetness.
Tour Price: 17 EUR person
Minimum Group Size: 4 persons
Level: Medium / cat II-III (Depending on season and water level)
Location: Aragvi Adventure Center, Pshavis Aragvi River
Approximate Length/Duration: 15km / 1h30min
Included: Rafting boat, rafting equipment, and rafting instructor.
Transfer: NOT Included in the price. Can be arranged upon request.
Kayaking
Kayaking is a relatively new sport in Georgia, practiced by a small group of enthusiasts. Kayaking is a more difficult discipline than rafting and beginners need to train on the lake before venturing into the whitewater rapids.
Aragvi Adventure Center offers kayak rental on Zhinvali Lake for 1 or 2 person sit-on-top Kayaks, which are unsinkable and can easily be turned up to original position if you happen to fall in the water. You will be equipped with life jackets but should nevertheless know how to swim. Lake tours are offered as ½ or1 day tours with a shuttle service provided. Ideal for summer, swimming in the lake is a pure pleasure.
Kayak rental for whitewater Kayaking on Pshavis Aragvi (WW II-III / moderately difficult) or on the upper section of Khevsuretis Aragvi (WW IV/V very difficult) is offered only for experienced kayakers. The boats we use are made by the Pyranha and Lettmann. Please enquire!
KAYAK
Kayak Rent Price: 20 EUR
Kayak Instructor Price: 30 EUR
Minimum Group Size: N
Level: WW II-III / moderately difficult or upper section -
WW IV/V very difficult
Location: Aragvi Adventure Center, Pshavis Aragvi River
Approximate length: upon your request
Deadline for Booking: 2 days in advance
Transfer: NOT Included in the price. Can be arranged upon request.
SIT ON TOP KAYAK
Price: 15 EUR per person
Minimum Group Size: 4
Level: Easy
Location: Aragvi Adventure Center - Zhinvali reservoir
Duration: 2 hours
Deadline for Booking: 2 days in advance
Transfer: NOT Included in the price. Can be arranged upon request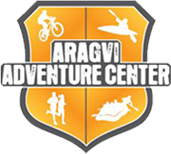 ARAGVI ADVENTURE CENTER
+995 555 298 297
+995 597 298 297
www.adventure-center.ge
Rafting season starts from late April and lasts till mid-October. The highest levels are foreseen for May and June, in July August and September difficulty goes down to Grade 2.
What's Included & Not:

- Helmet, Life Jacket, Neoprene Suit and Shoes
- Every boat is accompanied by a qualified instructor!
- Participants will go through a special training before rafting (20-30 minutes).
- Rafting will be conducted by 8-10 seat standard rafting boats.
Following services are NOT included and should be ordered separately:
- Transportation to Aragvi Adventure Center
- Lunch
- Accommodation at Aragvi Adventure Center or Camping