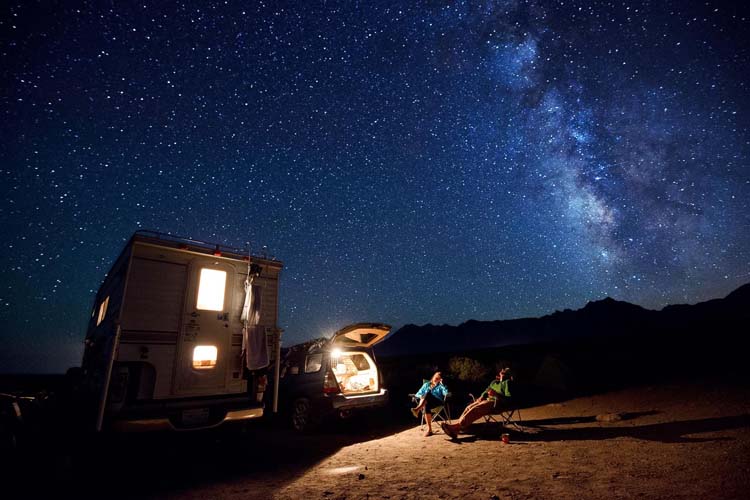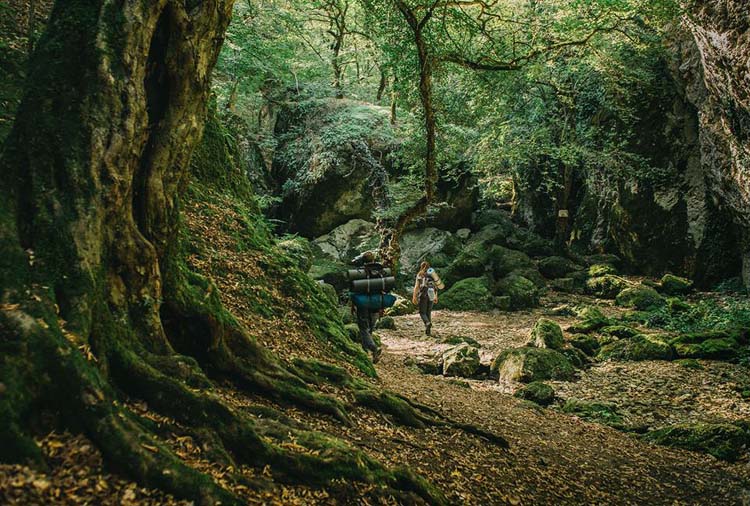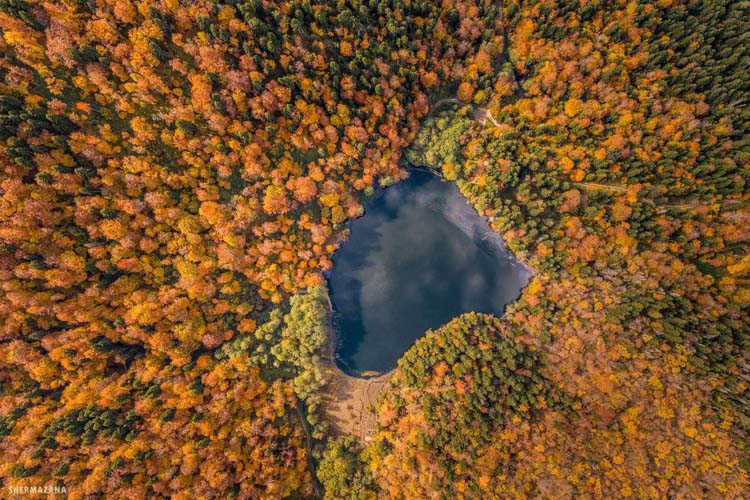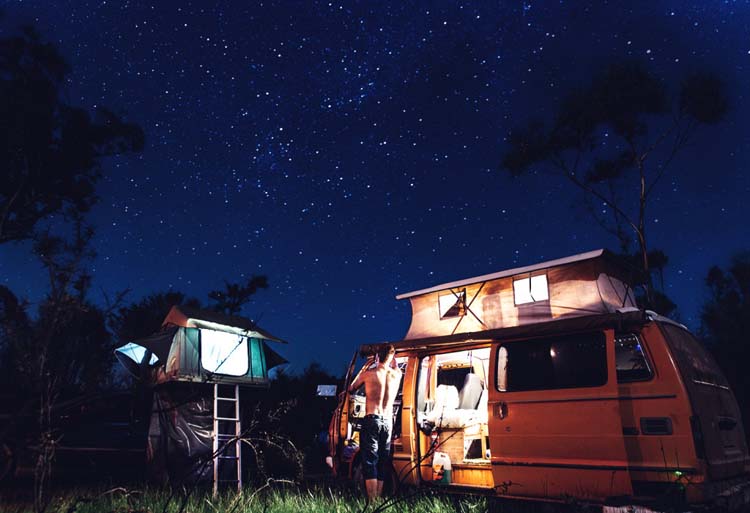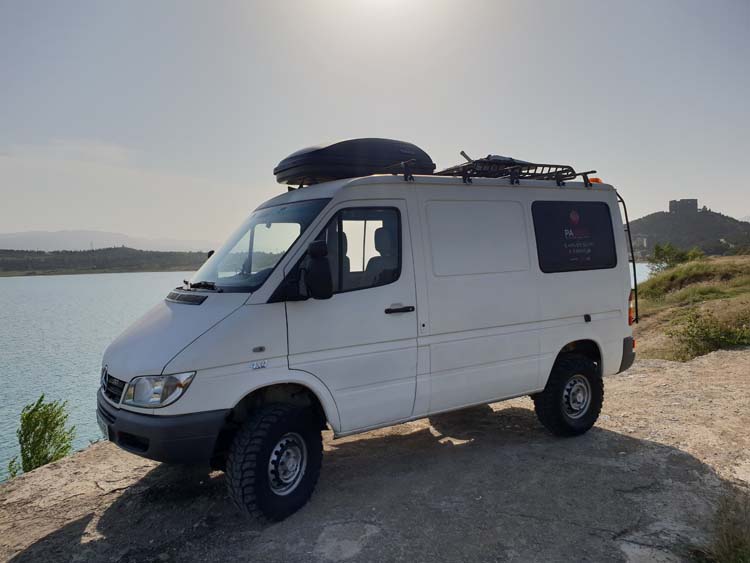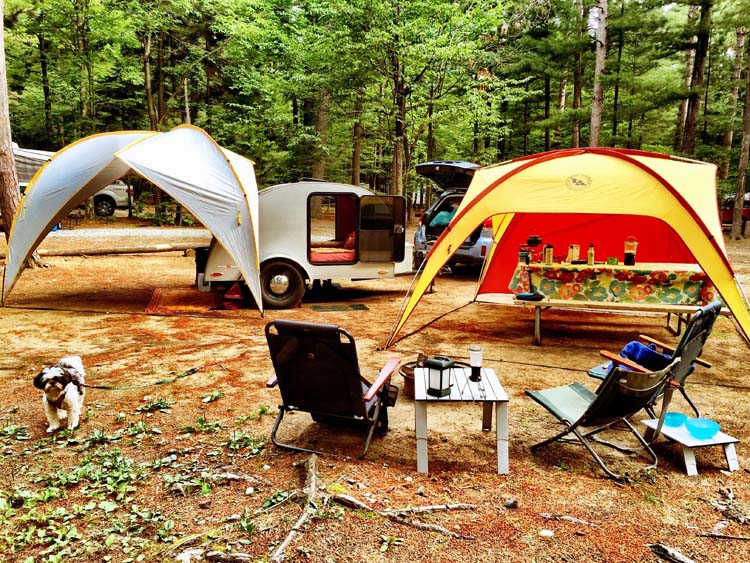 Best Camping Spots, Equipement & Camper Cars
CAMPING & MOTORHOME CAMPING IN GEORGIA
With breathtaking and diverse nature, Georgia is the great choice for those who love camping.
Here you can set up a tent or park your camper car or a motorhome pretty much anywhere you desire, or better to say anywhere you can reach - At the seaside, high up in the mountains, by the lake, in the street or even under the bridge.
There are no legal or any kind of safety restrictions for camping. Anyone can feel free to set up a tent anywhere they find interesting or comfortable and there are many spots all over the country where apart from beautiful sceneries at the camping spot you will find free running fresh drinking water and sometimes even old village style toilets.
The country's rural areas are mostly full of very cheap guesthouses which will offer you affordable homestays for a cheap price but almost all will also eagerly let you set up a tent in their own private property for a symbolic price and it will include use of their indoor toilet and shower facilities (dont forget to feel free to negotiate), usually one can even have a tasty authentic homemade breakfast for a small extra.


As mentioned, the whole country of Georgia is open for camping. Below we have listed some areas which, in our opinion, are the most attractive:


WHERE TO GO CAMPING IN GEORGIA
On the photo: Camping at
Borjomi-Kharagauli National Park
.
-
campsites that are only acessible on foot
.
Imereti Region
The most recommended campsite at the moment.
They offer amazing adventure activities for any taste: rock climbing, via ferrata, bike tours, kayaking, hiking, speleo and many more.
You can stay in tents, glamps, get their affordable accommodation in cottages or park in your vehicle.
https://campingeorgia.ge/
Adress: Village Sveri 68Q2+58 Sveri, Georgia
Link to map: https://goo.gl/maps/qbiY1QNdsBy7AB5x9

Kazbegi Region & Stepantsminda
-
Zeta camp, Village Juta (Private Campsite)
Zeta Camp is located in the village Juta in the Kazbegi municipality, its 2,300 meters above sea. It's one of the few campsites that is truly comfortable. It has a small cottage with electricity, hot water, and an area for tents. The site also offers breakfast, lunch, and dinner. You can get there by taking a minibus to Juta from Stepantsminda, then walking approximately 900 meters to the campsite.
-

Anywhere higher up towards Chaukhi Massif,
which offers beautiful scenery
-
There is also another
private campsite
, in approximately 1 hour walk from Zeta, it costs around 5 GEL per tent
- Camp at Kuro
in Stepantsminda (Davit Aghmashenebeli Street)
Private campsite with, nice owners and stuff, a campfire where you can just sit and chill and watch the mountains, shower, hot water, low prices.
- Rooms Hotel Yard
The best hotel in the region, actually one of the highlights offers its comfortable yard for campers, the price will include WC and showers. Here you can enjoy Rooms Hotel Restaurant, veranda and library.
- Alpine Camp Gveleti
(private campsite with some facilities) & area around Gveleti Waterfalls
-

 Khde Gorge
- Have you ever been woken very early in the morning and seen how the waves of fog appear to engulf a sleepy hollow? — Definitely you should. Wild and untouched nature, craziest river, stunningly beautiful view to Mt.Kazbeg, the whole Stepatsminda and surrounding mountains from a very different angle, from the cliff where mountain goats stand where anyone afraid of heights is strictly forbidden to pass. The only suggestion is to be well prepared when you travel into as wild areas as the Khde gorge is, you should know exactly what you are getting yourself into and take the highest precautions.
- In General, around Stepantsminda
, is great camping area in Kazbegi municipality. The town is overlooked by vast mountains on all sides.
Khevsureti Region
- Aragvi Adventure Center
– Private campsite offers comfortable camping area next to Aragvi River, comfortavle cottages, shower, toilets, food,
rafting
and other activities
- Village Roshka
- has some guesthouses and vast free camping area, is base to Abudelauri Lakes.
-

Abudelauri Lakes
- 2 hours walk from Roshka - alpine lakes with beautiful mountain views
- Around village Shatili
- Between Shatili and Mutso
- Village Ardoti

See more info on
Khevsureti Region
.
Tusheti Region

Tusheti is one of the most charming regions in Georgia. It's one of the greenest areas of the country and it has medieval towers! Situated on the northern hills of the Greater Caucasus Mountains, the area is bordered by Chechnya and Dagestan on one side and Kakheti and Khevsureti on the other. Here, you can witness some of the most beautiful natural landscapes of the country, mostly untouched and undeveloped. If you are looking for wilderness and gorgeous views combined with medieval atmosphere, then Tusheti should be on your list.
- Village Omalo
- Village Bochorna
- At 2,345 meters (7,693 ft) above the sea level,
Bochorna
is one of the highest inhabited areas in Georgia. The area offers a breathtaking view over the Caucasus Mountains.
- Village Dartlo
- Village Girevi
-

Kvakhidi
- Campsite towards Atsunta Pass
Kakheti Region & National Parks
Kakheti region is famous for its wine production and churches but it's also a home of 2 national parks.
In General all National Parks and protected areas of Georgia offer prepared campsites (also some cottages) and spectacular sceneries. The price for camping is small and everywhere you can rent tents and camping equipment as well as horses and guides on spot in administrative centers. In Kakheti we recommend:
- Private Campsite AISI:
The campsite AISI is located in the Kakheti region, right at the border of Lagodekhi nature reserve, 1 km from the central S5 road.The total area of the campsite is 20,000 square meters, in the central part of which there is a swimming pool, which is constantly filled with spring water. There are more than 150 places for tents and more than 60 places for cars and caravans on the campground.
Location on Google Maps:
https://goo.gl/maps/XDJYy4BdCkXYufCg8
- Vashlovani Nature Reserve
- Lagodekhi Managed Reserve
Shida & Kvemo Kartli Regions
- Bateti Lake
Kareli municipality is home to one of the most beautiful lakes in Georgia called Bateti. Even though the lake is quite small, the surrounding forest creates a gorgeous landscape for camping. The area is accessible by car and is a three-hour drive from Tbilisi. The best time to visit the lake is in autumn when the leaves change into autumn colors.
Birtvisi is a ruined medieval fortress in Kvemo Kartli, Georgia, nested within limestone cliffs in the Algeti river gorge, adjacent to the Algeti National Park, south-west of the capital Tbilisi.
Birtvisi is essentially a natural rocky fortress of 1 km², secured by walls and towers, the most prominent of which – known as Sheupovari ("Obstinate") – tops the tallest rock in the area. Various accessory structures, an aqueduct included, have also survived.
In medieval Georgia, Birtvisi had a reputation of a stronghold whose master could control the entire strategic Algeti gorge.
It is excellent hiking and camping destination due to its beautiful nature – dense deciduous forest settled among tall rocky cliffs and canyons. It is popular destination among locals and travelers.
It's approximately 1 hour drive (60km) away from Tbilisi and requires 1.5 hour trekking to reach the campsite destination.
Samtskhe-Javakheti Region
-  Nunisi & Borjom-Kharagauli National Park
You might have camped everywhere — mountain tops, with a views to summits, at alpine lakes, but there is a place where you will go back again and again. Located in Borjomi-Kharagauli National Park, camping spot near resort Nunisi can be the best place for relaxation, to enjoy all the sounds of nature. Right in the middle of the forest there is very small flat beautiful field which can hold up to 5 tents, water streams both sides, tasty mountain spring as a rule, fireplace, pine forest, flowers.
- Kakhisi Lake
Summer settlement of small cute wooden houses, the land of pine forests and beautiful panoramas — Dabadzveli village and Kakhisi Lake near the village with many perfect spots for camping around it, one side — wider green field, another perfect for swimming in its cold water where as a legend says Russian women used to rest during soviet times when cable cars, currently abandoned, worked, another with darker forest and abundant bushes of berries, spots of barbecue where locals love to make fire and drink vodka in cold Borjomi nights, what else you may dream of?
- Paravani Lake
Paravani Lake is a volcanic lake situated 2,073 meters (6,801 ft) above sea level and is one of the biggest in Georgia. The lake freezes during the winter months, making the area even more spectacular than in summertime.
Racha - Lechkhumi Region
Aghvi Camping is a family start up in Georgia, in a small village Aghvi on the Horse River.
Aghvi 5100 K'veda Ts'ageri, Georgia
Link to map: https://goo.gl/maps/KjUYaegFxWd1h2MLA
-

Lake Udziro
One of best camping spots is in the region of Racha, at the shore of lake Udziro. Its a small field, with cold tasty mountain spring at the elevation of 2800 meters and with Katitsvera summit behind it. But you will want to set up tent exit to the side of majestic Caucasus mountains. In the morning from your tent you have wonderful views to the summits of 4–5 thousand meters — Tetnuldi, Shkhara and Ushba which are reflected in the lake.
- Around Shaori reservoir
- Shovi resort
-  Khvamli Mountain
Khvamli, also known as Khomli, is located in Lechkhumi. According to the old, ancient sources, Khvamli — is considered as the mystic place of trip of the legendary Greek heroes, Argonauts and the Heracles.
Campsite is at the top of mountain, at the border of forest and alpine zone, 15 min walk from unbelievable views to west Georgia lowlands and Caucasus mountain range perfectly visible in a clear morning sky.
Guria Region
- Gomi Mountain
Gomis Mta, or Gomi Mountain, is a summer resort in the Ozurgeti municipality, western Georgia. Located on the northern slopes of Meskheti ridge, the area rises 2,100-2,755 meters (6,889-9,038 ft) above sea level. Summer months here are moderately cool, while winter is cold with heavy snow. The place is surrounded by coniferous forests of spruce and fir, creating an absolutely marvelous view above the clouds

- Dumbo Eco Camping is an exciting project of a Georgian girl, who gathered 9 like-minded people to develop an eco-friendly campsite / guesthouses in Gomi, a small village in Ozurgeti, Guria
Along with private well maintained and ecological territory for camping and leisure, the area offers small cottage accommodations and all necessary facilities and beautiful surroundings.
Location: https://goo.gl/maps/RorQ9SgWHhNu4ToB8
Contact Info: 598 10 76 06 /
likadumbadze@gmail.com
/
https://www.facebook.com/dumboecocamp/
Ajara Region
The whole black sea coast is open for camping, there are no restrictions, you can set up your tent right in the middle of Batumi seaside. We especially recoomend to check
- Mtsvane Kontskhi
- Tsikhisdziri
Also
- Mtirala National Park
- Mtsvane Tba (Green Lake in Upper Ajara)
Samegrelo & Upper Svaneti Regions
- Near Becho Valley, Ushba waterfalls
- Around mestia – Challaadi Glacier
- Near Ushguli – at the foothills of Shkhara Moutnain
- Tobavarchkhili Lakes
The Tobavarchkhili Lakes are often called "Toba" by locals and are in the Samegrelo region. They are also referred to as the "silver lakes" by locals. The hike toward the lakes is quite intense and dangerous, and some parts require a guide. You need at least three days to reach them.
MOTORHOME, CAMPER VAN RENTAL
If you like to rent a camper in Georgia, we have our own campers available at our car rental portal CARS4RENT
You can check availability of them by choosing the dates at the home page. Or write us your request: support@cars4rent.ge
Here are some campers that we have for rent:





Please visit
https://cars4rent.ge/
choose your dates in the search field check that the car is available, book it and enjoy your camping trip!
In Tbilisi, there are several companies that rent out good quality and affordable camping and hiking equipment.


The most recommended one is
Mogzauri Rental
. Here you can rent not only snowboarding and skiing equipment but also everything for camping, hiking and mountaineering.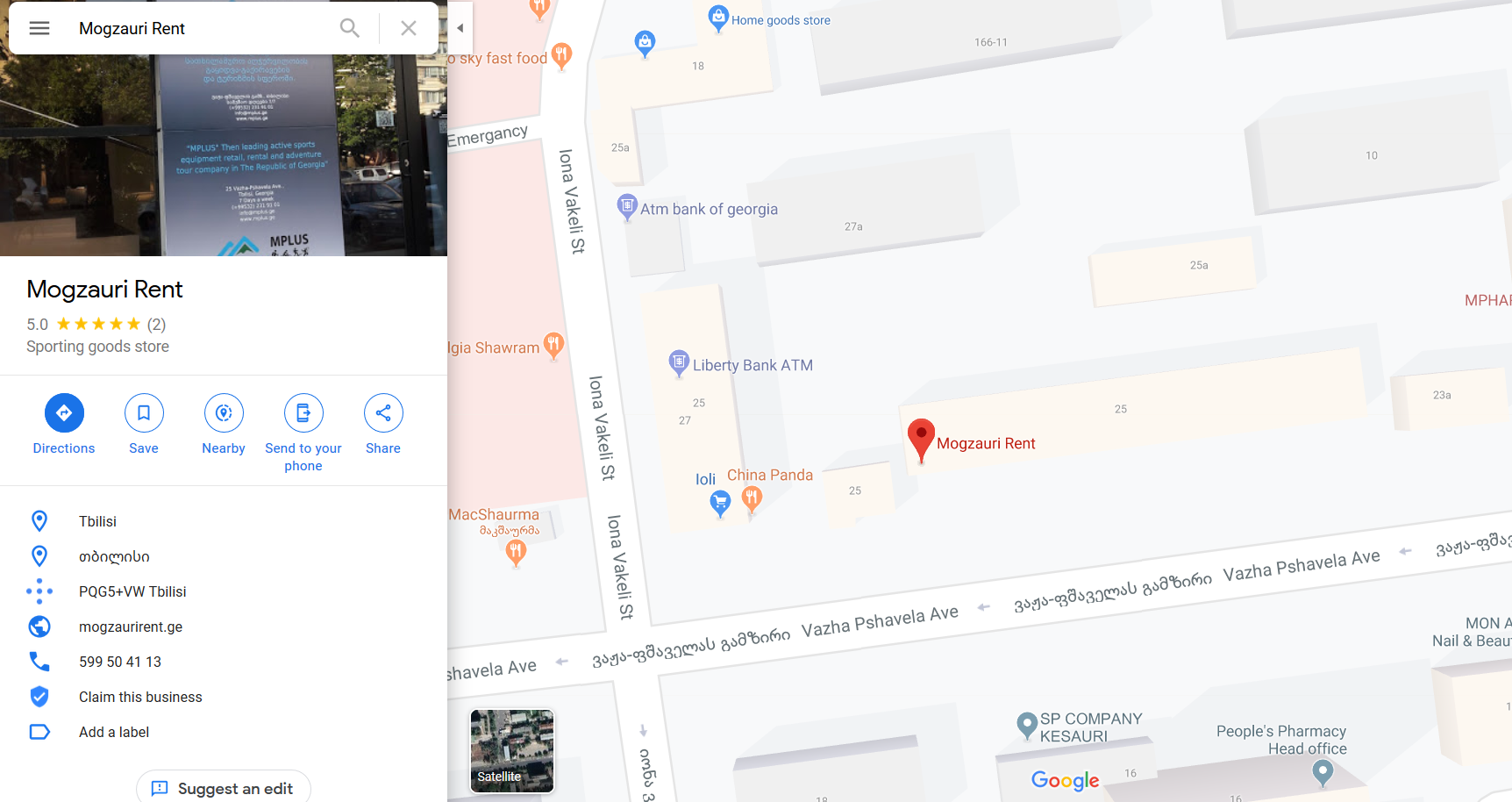 (+995) 599 50 41 13 (GE)
(+995) 568 65 99 85 (EN)



Here you can rent tents, boots, backpacks, sleeping bag, MSR gas stove, campsite facilities, harness, crampons, ice axe and etc. of brands like Saleva, Coleman, Petzl...
Another one is a website tent.ge. So far, we havn't tested their services, but you could check it out.
Address: Giorgi Saakadze Square, underground pass N11
Tel: +995593761651, +995551542249
Working Hours: Every day 11:00-20:00
Web:
http://www.tent.ge/
(Although website is in Georgian, you still can check out some products and/or give them a call).