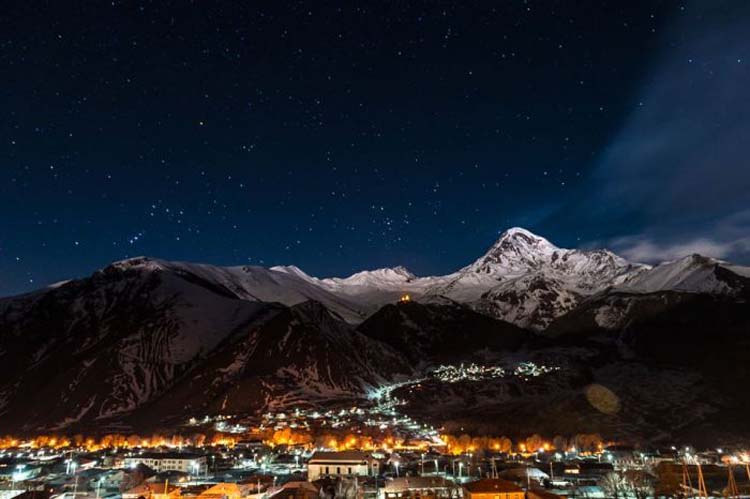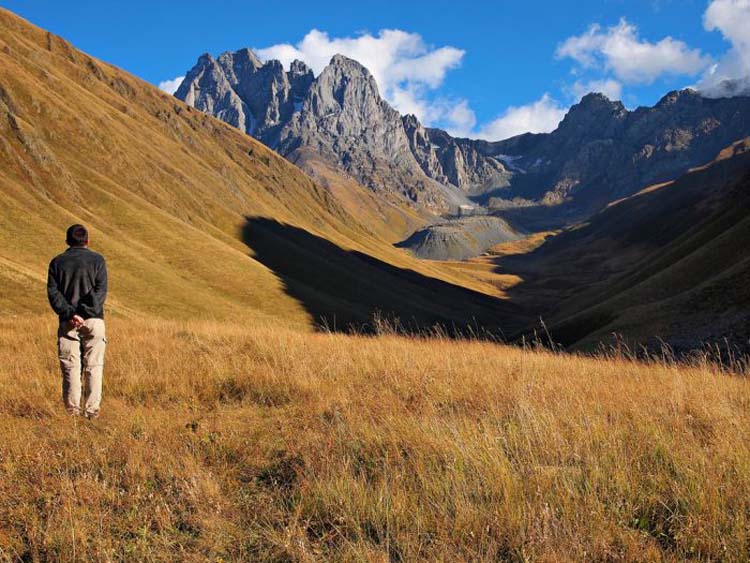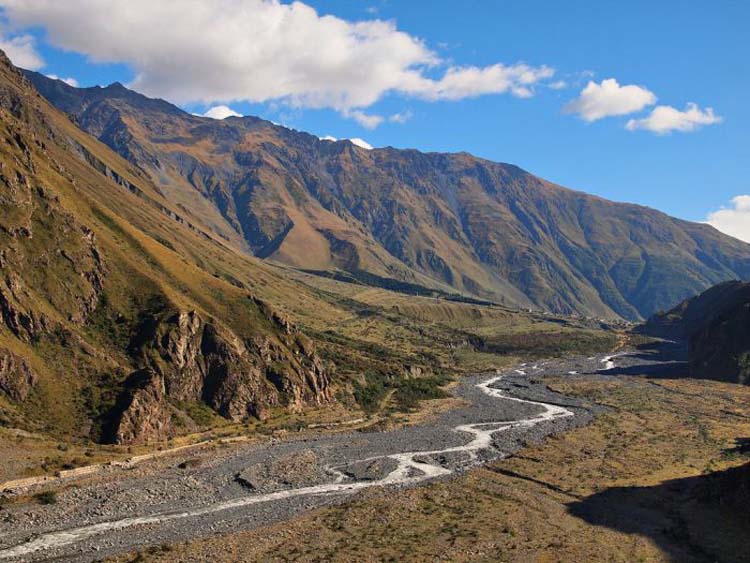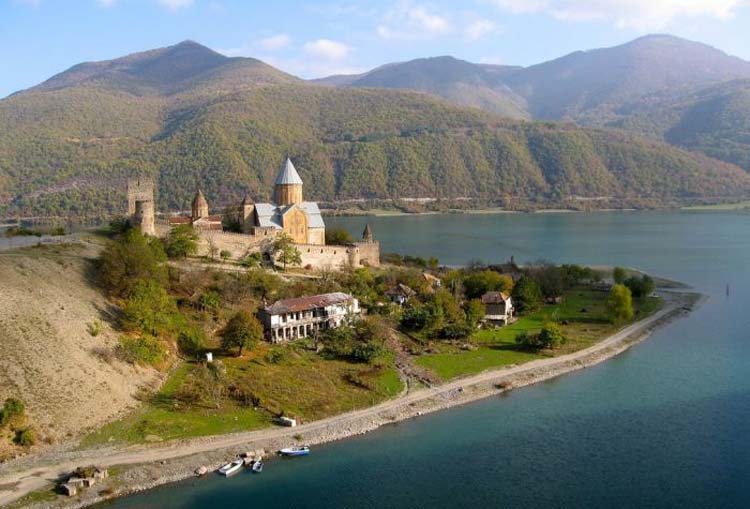 Tour Example to Kazbegi
TRIP 1: KAZBEGI REGION
Kazbegi region, officially Khevi province is most popular travel destination in Georgia mainly because of its beautiful landscapes, high mountains, especially Mount Kazbek and its near location to central Georgia and capital Tbilisi.
You can find detailed information about Kazbegi region and all highlights here:
Kazbegi Region
Total Duration: 2 days


Highlights Covered
- Mtskheta - Jvari Monastery & Svetitskhoveli Cathedral
- Ananuri Fortress
- Gudauri, Peace Monument
- Truso Gorge
- Town Stepantsminda
- Gergeti Trinity Church
- Gveleti watefalls
- Village Juta
Detailed Itinerary
Day 1
- Mtskheta, Ananuri, Gudauri, Truso, Stepantsminda
The Georgian Military Road is the historic name for a major route through the Caucasus from Georgia to Russia.
It (ca. 212 kilometres long) runs between Tbilisi (Georgia) and Vladikavkaz (Russia) and follows the traditional route used by invaders and traders throughout the ages. From Vladikavkaz, the road stretches southwards up the valley of the river Tergi before passing through the Darial Gorge (which marks the border between Russia and Georgia). It then passes Stepantsminda before heading south-west through the region of Khevi to the Jvari (Cross) Pass, where it reaches its maximum altitude of 2,379 meters.

08:00 Departure from Tbilisi08:30 Mtskheta - Jvari Monastery & Svetitskhoveli Cathedral
12:00 Ananuri
14:00 Lunch in Pasanauri or Mleta
15:00 Panorama near Gudauri
16:00 Walk in Truso Gorge
19:00 Arrival in Stepantsminda, overnight
The small town of Stepantsminda, formerly known as Kazbegi, is situated at an elevation of 1700 meters above sea level in the Mtskheta-Mtianeti region of northeastern Georgia. It serves as the central hub of the Kazbegi Municipality.
Resting along the banks of the Tergi River, the town is encompassed by imposing mountains on all sides, with Mount Kazbek, the region's most prominent peak, situated immediately to the west of the town.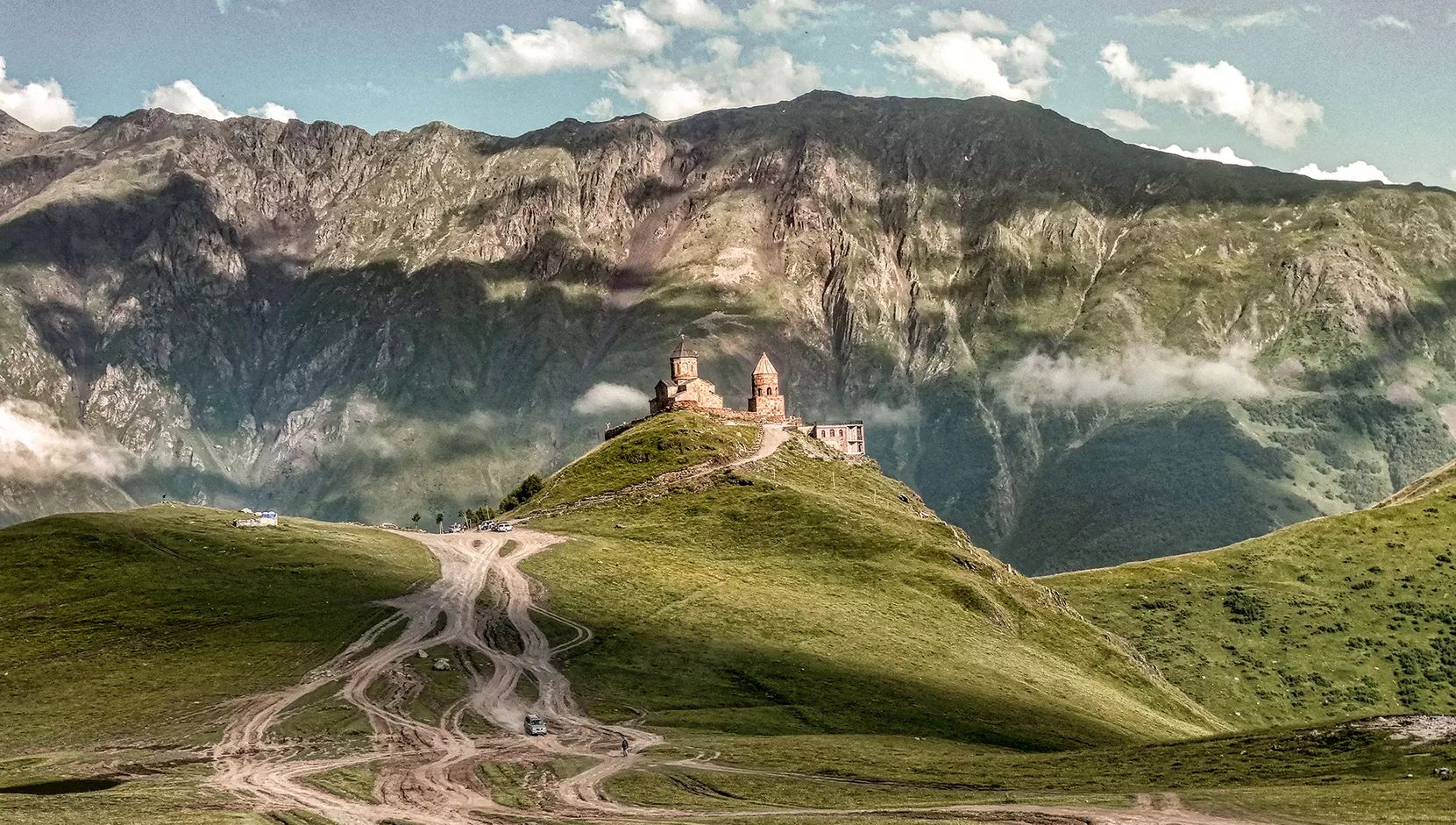 Day 2
- Gergeti Church, Gveleti, Juta
Topped at an elevation of 2170 meters beneath the imposing Mount Kazbegi and commanding a view over the town of Kazbegi, the Gergeti Trinity Church stands as the primary religious edifice in the region.
Dating back to the 14th century it is an active institution within the Georgian Orthodox Church and a significant attraction to travelers to Georgia due to its magnificent location and beauty.
09:00 Departure to Gergeti Church
11:00 Departure to Gveleti waterfall and border
14:00 lunch in Stepantsminda (or in Juta + short walking in Juta)
17:00 Departure from Juta to Tbilisi
Important Notice
This is an example of a trip to Kazbegi region.
We have displayed optimal timing to cover all interesting highlights in the area.
We do not implement this tours and all travelers can use this information as guidance.
We hope it will be useful and you will enjoy your time in the region :)