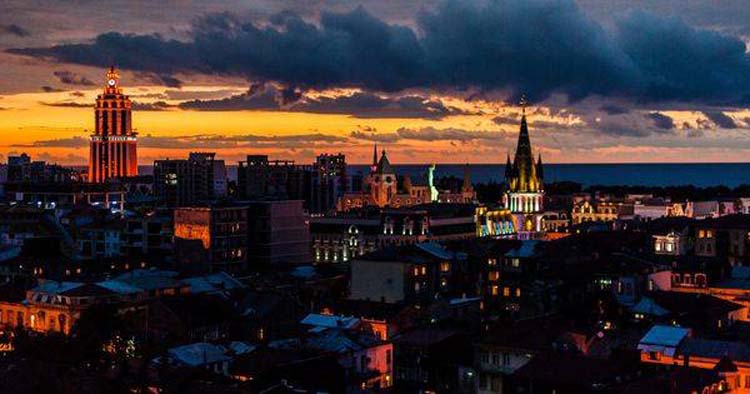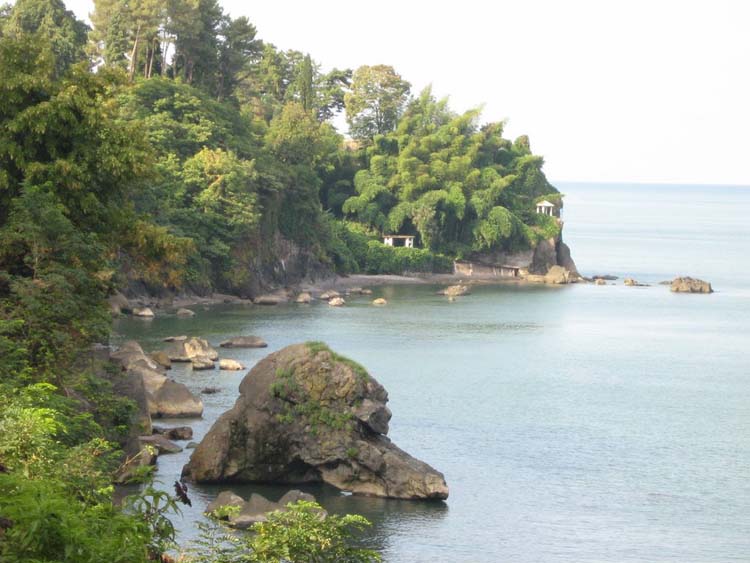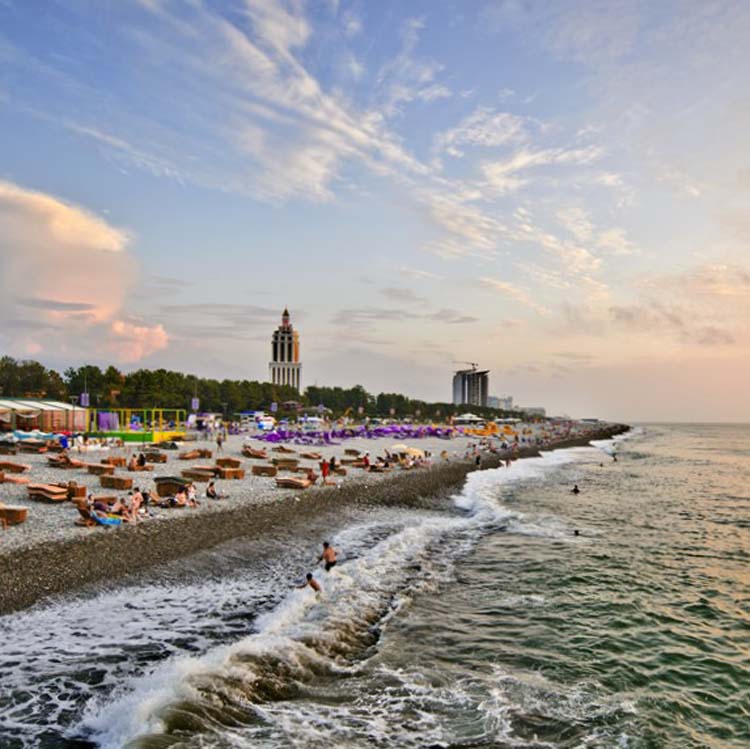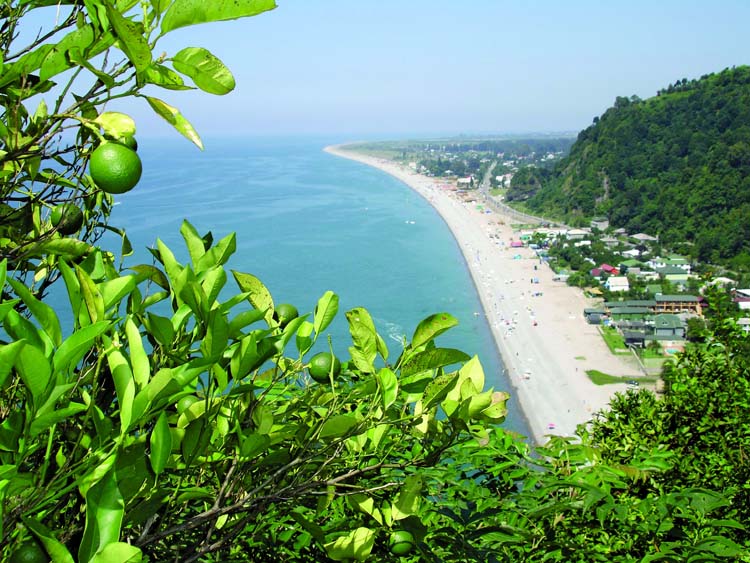 Seaside Resorts of Georgia
AJARA - SEASIDE
One of the most beautiful regions in Georgia, Ajara (Adjara) is situated in southwest Georgia on the Black Sea coastline. Ajara is an autonomous republic of Georgia and has its own flag and coat of arms. Turkey borders Ajara to the south.
Batumi is administrative center of Ajara. European architects undertook numerous projects in Batumi at the beginning of the 20th cent. Today, Batumi is still a place of numerous architectural innovations.
Ajara is home to the picturesque beaches of Batumi, Kvariati, Sarpi, Gonio, Tsikhisdziri, Mtsvane Kontskhi (the Green Cape) and Kobuleti. During the summertime, the beaches are often crowded with tourists enjoying their holidays.
In this section we will discuss in more detail the beaches and seaside resorts of Ajara.
Best Time to Visit: Summer, autumn

Below we describe all main highlights and attractions in Adjara seaside region.
ROUTE MAP (ONE WAY)
Total Length: 440km; 7.5 hours without traffic.
Batumi, second largest city in Georgia (population 150 thousand) is one of the most distinguished tourist destinations on the Black Sea. Batumi offers amazing mixture of ancient and modern architecture, historical port, serene botanical garden, Seaside Boulevard, beautiful squares and streets - not to mention its world-class hotels, restaurants, cafes and bars.
It is important to note that in 2012 American Academy of Hospitality Sciences nominated Batumi as the best tourist destination of the year. Batumi today is still distinguished by modern architecture and abundance of investments. Among its modern architectural monuments one should mention local McDonald's building which was acknowledged as best McDonalds building in the world.
Batumi is the region's touristic and gambling capital. A regional party hub, Batumi has a vibrant nightlife, hosting increasingly big name international DJs and pop concerts.
How to Get There
Distance from Tbilisi: 380km
Batumi is connected to the rest of Georgia by all kinds of public transport.
Train:
Daily express train (leaving from Tbilisi Railway station every day 8am), a slower night train,
Night train leaves Tbilisi at 00:35 and arrives in Batumi Makhinjauri Station at 6am next morning.
Day express train leaves Tbilisi at 8:00 and arrives at Makhinjauri at 13:00 (returns 17:55-22:50). Ticket price is approximately 25 GEL.
The train is modern and the ride is quite comfortable. On-board free WiFi is available.
Reserve your seats in advance as all trains are mostly in high demand.
Buses & minibuses:
Almost hourly minibuses leave from station square and didube bus station of Tbilisi, also taxi cars collecting passengers and therefore offering reasonable prices.
International Airport:
Which is located 2 km south of the city. The following airlines operate service to/from Batumi International Airport:
Belavia (Minsk)
Georgian Airways (Donetsk, Kharkiv, Kiev-Boryspil, Moscow-Vnukovo, Odessa, Tbilisi)
Turkish Airlines (Istanbul-Atatürk)
Pegasus Airlines (Istanbul-Sabiha Gökçen)
Things to Do in Batumi:
- Walk in the old town streets, boulevard and Piazza
- Take a Batumi Cableway, on Gogebashvili str.
- Visit Batumi Botanical Garden
- Visit Batumi Dolphinarium, 51 Rustaveli Avenue
- Visit Batumi Diving Center, 28 Andria Pirvelwodebuli str.
- Go to Yacht Club, 5 Gogebashvili str. For Banana Trip, Parachute Trip, Yachting
- Visit
fish market
for wide choice of fresh seafood.
Insider tip: You can buy your own fresh fish and have it cooked for you in the restaurantr next to the market
- Hang out in
Komuna bar
(they also have a hostel). Pushkini str 37, Batumi
In the City:
There is a network of red painted bike paths through-out Batumi, including the most notable path a 8 km path along the sea which stretches along both the beach and port side of Batumi. An automated bike sharing membership, called BatumVelo is available to rent bicycles and ride along the beaches. To get a BatumiVelo card stop at the Tourist information booth at the center of town, near the fountains, Ninoshvili str. №2
There are 4 Tourist Information Centers in Batumi. The friendly staff can offer helpful advice and information to help you make the most of your trip to Batumi. You can pick up free brochures and maps. You can also book tours and accommodation at tourist information centers, as well.
Tourist Information Centers in Batumi:
Batumi - 2 Ninoshvili str.
mob: +995577909091,
tel: +995422294412,
working hours: 09:00-21:00
Batumi - Gogebashvili str.
mob: +995577909093,
tel: +995422294410,
working hours: 09:00-21:00
Batumi - 220 Airport highway
tel: +995422294414,
working hours: according to flights schedule
Sarpi - Sarpi Customs
mob: +995577909072,
working hours: 09:00-21:00
Both Sarpi and Kvariati (and also village Gonio) are very popular seaside destinations in Georgia due to very good hotel and restaurant infrastructure, short distance from Batumi and very clean sea water. The average water temperature is +25C. Hotels and hotel-type cottages are located very close to the beach. Mountain and sea air make for an ideal climate and create a welcoming atmosphere. Sarpi is the border of Georgia with Turkey, here you can cross the border and go to Turkey or vice versa. In addition, Kvariati is home to the unique historical Gonio Fortress, which was constructed in the 1st century AD. The fortress is located near Kvariati in the village of Gonio.
How to Get There
Distance from Batumi: 15-18 km
From Batumi to Sarpi or Kvariati you can hire a taxi which will cost approximately 20GEL or take bus or a minibus (from center of Batumi, or Batumi bus station)
What to Do
-Visit Gonio Fortress
-Have a walk in Kvariati hills
-Cross the Border and go shopping to Turkey

Distance from Batumi: 17 km
Tsikhisdziri resort is located 17 km north of Batumi, 60-90 meters above sea level.
The main attraction of Tsikhisdziri is its unique mixture of sea and mountain climates. Summers are rather cool and winters are relatively warm in comparison with Batumi or Makhinjauri.
The territory has been settled since ancient times. It used to be a historical city-fortress in western Georgia, namely of the Egrisi Kingdom, due to its military strategic and economically favorable location. In the VI century AD, Byzantine Emperor Justinian built the city of Petra. A narrow coastal road passed through the city territory connecting western Georgian to Byzantium, Iran and Armenia.
Many rest houses, restaurants and cafes are located throughout the green slopes and beautiful parks and gardens of Tsikhisdziri. The beach is comfortable and boat rentals are available.
GREEN CAPE (MTSVANE KONTSKHI)
Distance from Batumi: 9 km
Located 9 km outside of Batumi, Green Cape (Mtsvane Kontskhi) is one of the most beautiful seaside resorts in Georgia. The area is 70-92 meters above sea level. Batumi Botanical Garden is located within Green Cape's picturesque setting. Thousands of visitors come to the garden each year due to its wide variety of flora.
Distance from Batumi: 25 km
Kobuleti is the closest resort to the sea in Georgia. It is distinguished by its historical sites, mild subtropical climate, ionized sea air, Pichvnari (pine forest), gentle sun and warm sea.
The broad pebbly beach sloping down towards the sea is well equipped with parasols and deck chairs. In addition, different water rides are offered to holiday-makers. There are numerous cafe-bars, restaurants and bungalows in Seaside Park. The mild, humid subtropical climate encourages relaxation as well as medical treatment.
Some texts and information on this page is taken from Official Tourism Portal of Adjara region: http://gobatumi.com