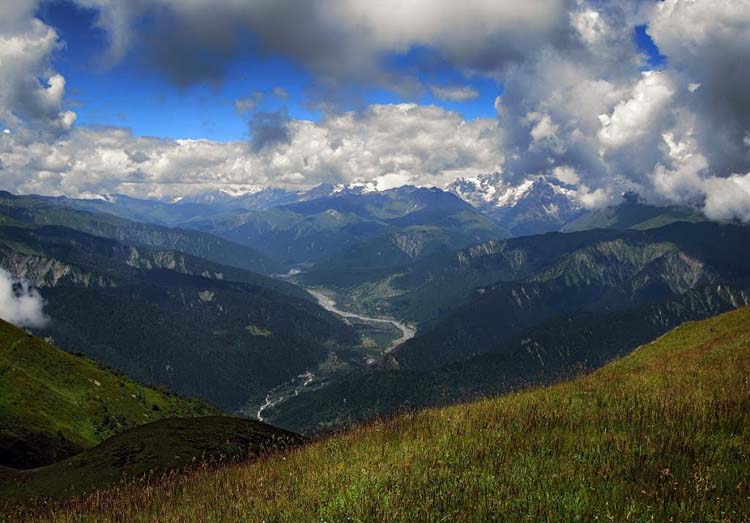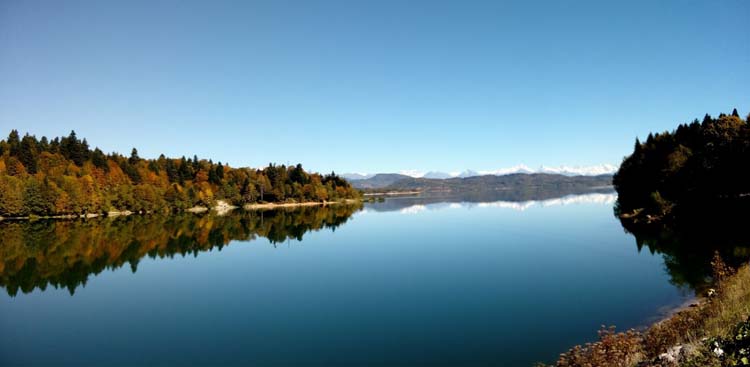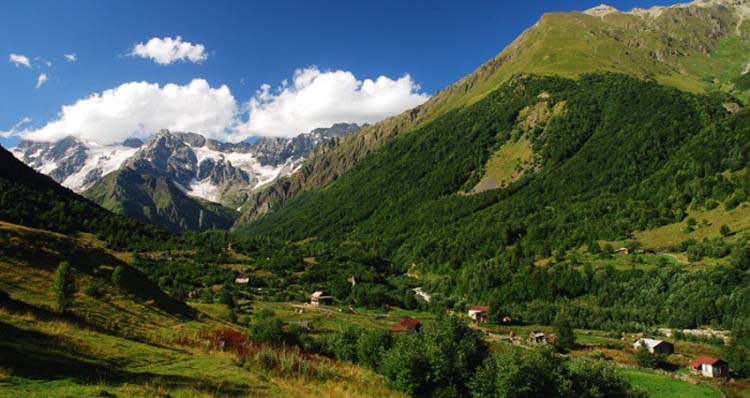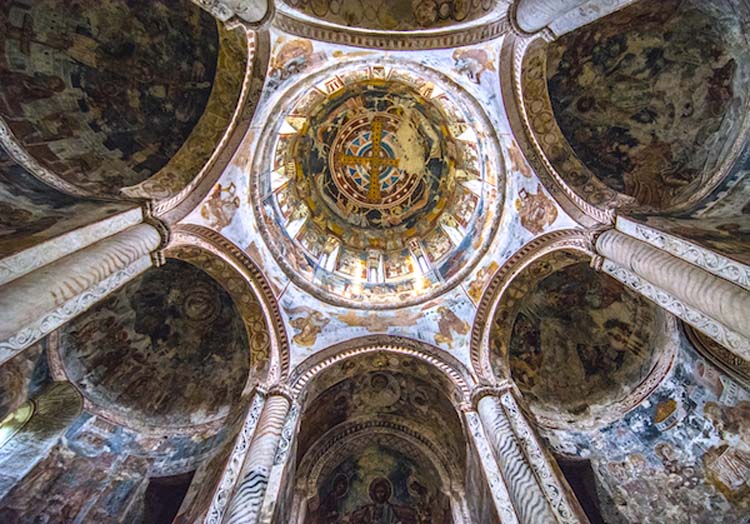 Least Traveled Region Among the Best
RACHA
Racha is a highland area in western Georgia, located in the upper Rioni river valley and hemmed in by the Greater Caucasus Mountains. Under Georgia's current subdivision, Racha is included in the Racha-Lechkhumi and Kvemo Svaneti region as the municipalities of Oni and Ambrolauri.
Racha occupies 2,854 km2 in the north-eastern corner of western Georgia. Spurs of the Greater Caucasus crest separates Racha from the Georgian historical regions of Svaneti and Lechkhumi on the north-west and from Imereti on the south, while the main Caucasus ridge forms a boundary with Russia's North Ossetia. On the east, Racha is bordered by breakaway South Ossetia, officially part of Georgia's Shida Kartli region.
The capital is Oni, another main town is Ambrolauri.
Racha-Lechkhumi has a humid climate, with an elevation reaching up to 2000 meters above sea level. The winter is cold and long, while the summer is traditionally short and warm. The climate in the mountains is humid and is characterized by an absence of a real summer
Cultural monuments and strong traditions have been passed down through the generations in Racha-Lechkhumi. People are known for their dedication to work, love for wine, and singing skills. They still maintain ancient traditions of vineyards and winemaking.
In fact the region is famous for Georgia's most popular wine - Khvanchkara.
Naturally semi-sweet red wine Khvanchkara, made from the Alexandria & Mudzhuretuli grape has a strong, harmonious taste with complex flavors of red fruit, dominated by Raspberry. The fertile valleys and exceptional climate of the region guarantees producing naturally semi-sweet pure wine that is considered as a national treasure of Georgia. It should be noted that in 1945, Khvanchkara was consumed at the Yalta conference by Franklin Roosevelt, Winston Churchill and Josef Stalin.
Below we describe all the best highlights that should not be missed while in Racha.
ROUTE MAP (ONE WAY)
Total Length: 330 km, 5.5 hours without traffic
SHAORI RESERVOIR & NIKORTSMINDA CATHEDRAL
The first place to visit in Racha is Shaori Reservoir, which offers amazing landscapes all year round. The lake is popular fishing destination. Ten minutes further into the region and you will arrive at the village of Nikortmsinda and a 11th century cathedral. It's one of the highlights of Georgian medieval architecture. Cathedral is remarkable for its magnificent exterior decorations including multiple-figured reliefs representing different evangelic episodes, figures of the Saints and real and fantastic beasts.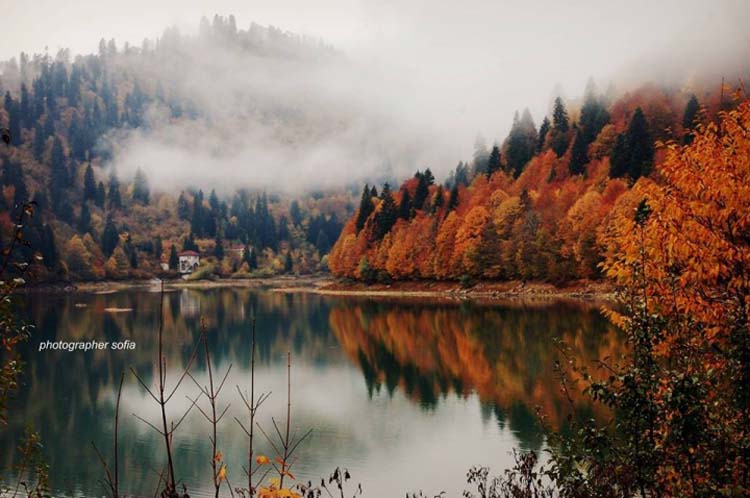 Ambrolauri is a small town with a population of 2,000 people located 550 m above sea level. Interesting sights in this town include the Museum of Fine Arts and Brakoni, a Georgian Orthodox church. The Museum holds over 550 paintings of well-known Georgian artists (Gudiashvili, Akhvlediani, Kakabadze, Varazi, and others) and is open every day except Monday from 10:00 to 17:00.

Oni is 30 km northeast of Ambrolauri and is the municipal center of Racha. According to the legend, the city was founded in the 2nd century BCE though it's probably much older as it has been inhabited since the Bronze Age. Visit Oni's Local Museum founded in 1937. It houses 15,000 archaeological artifacts, architectural elements, and ethnographic objects such as textiles, coins, and painting books. The museum is open every day except Monday from 10:00 to 17:00.
You can also check out ruins of old medieval forts and Orthodox churches as well a Synagogue built in 1880.
Located on 1500-1600 meters above sea level, surrounded by high mountains of the Caucasus, villages Utsera and Shovi are famous mountain climatic and health resorts in Georgia. They are surrounded by forests that occupy over 25 thousand hectares and snowcapped mountains.
Also interesting various wild birds and animals and springs of mineral waters with diverse composition of minerals.

Since 2017 you can fly to Ambrolauri.
Tel: +995 0322 48 73 00
The flights are implemented from Natakhtari Airport by travel company Vanilla Sky.
Schedule: Wednesday, Friday, Sunday
Price one way: 50Gel (including transfer to/from Natakhtari airport)
Or better to give them a call.
Tel: (+995 32) 2 427 427; (+995) 599 659 099;
Or email: Info@vanillasky.ge
The most recommended land public Transport is Minibus (Marshrutka) which depart from Didube Bus Station in Tbilisi with the price per person around 20GEL.
Oni
The family owned hotel,
Artists' House
, in Oni. The place is like a museum: every detail of the building reflects its local culture. You will see prehistoric bugs and shells dating back 50 million years, weapons and pots from ancient times along with recent paintings and handmade furnishings created by the host. All artifacts have been collected by the family members.
Ambrolauri
Glamping Georgia - Is a new small hotel located in Ambrolauri, Racha.
Offering it's guests luxury tents with a terrace, kitchen, private bathroom, Wifi, TV..
Right in the wild mountains!
Start exploring Racha with the coolest tents in the Area.
Hotel offers good service, and amazing nature to enjoy, along with the cozy dome-tent style rooms.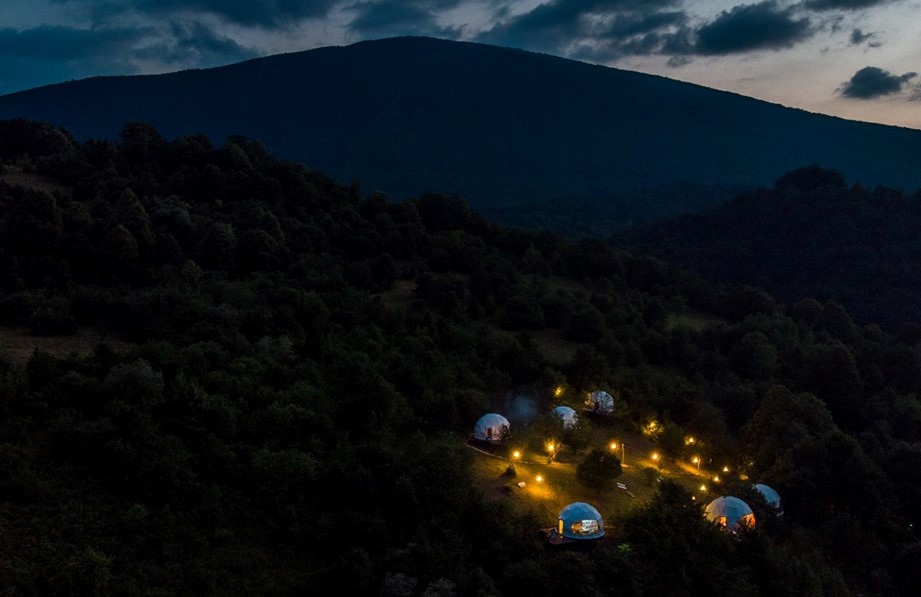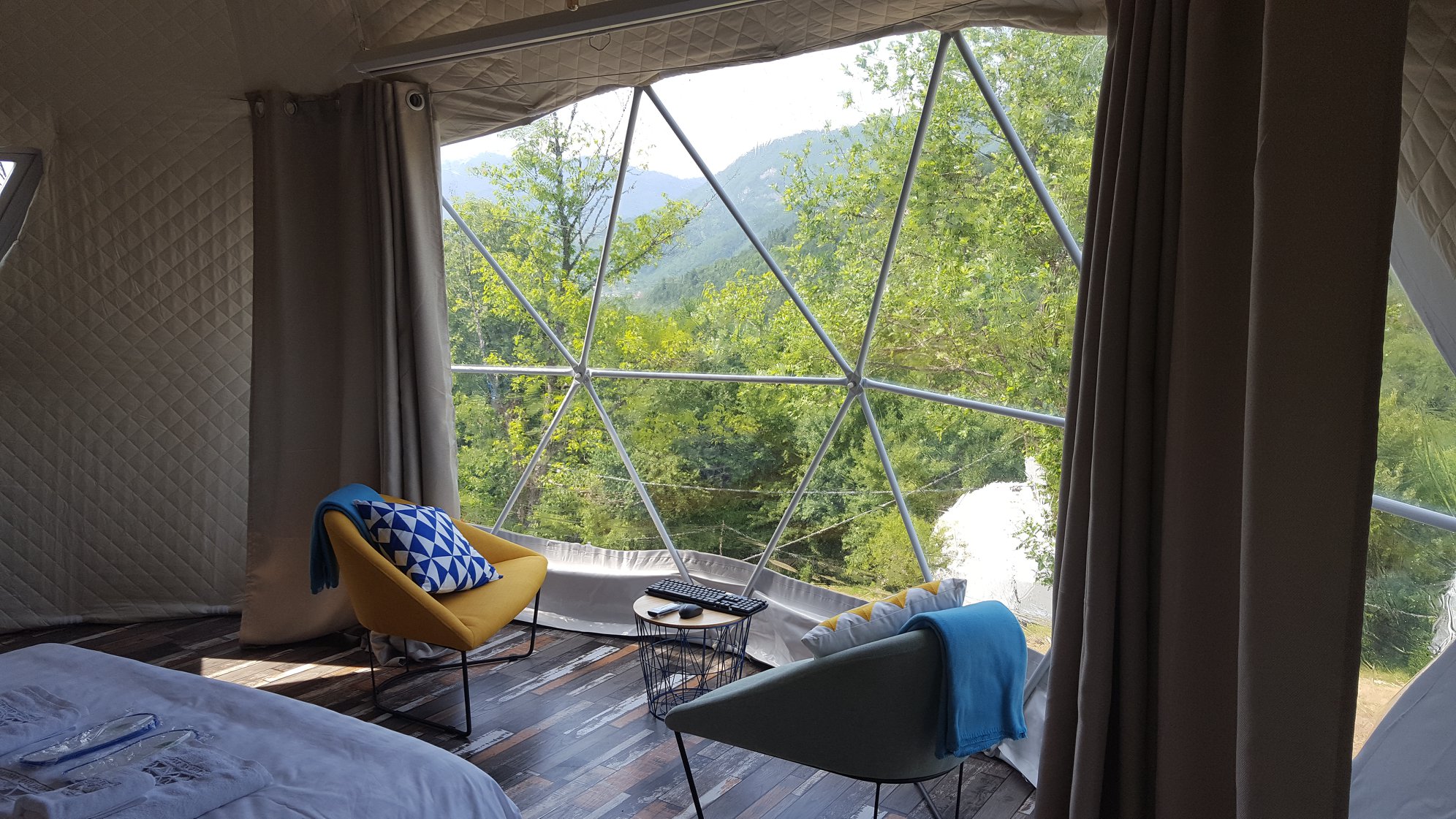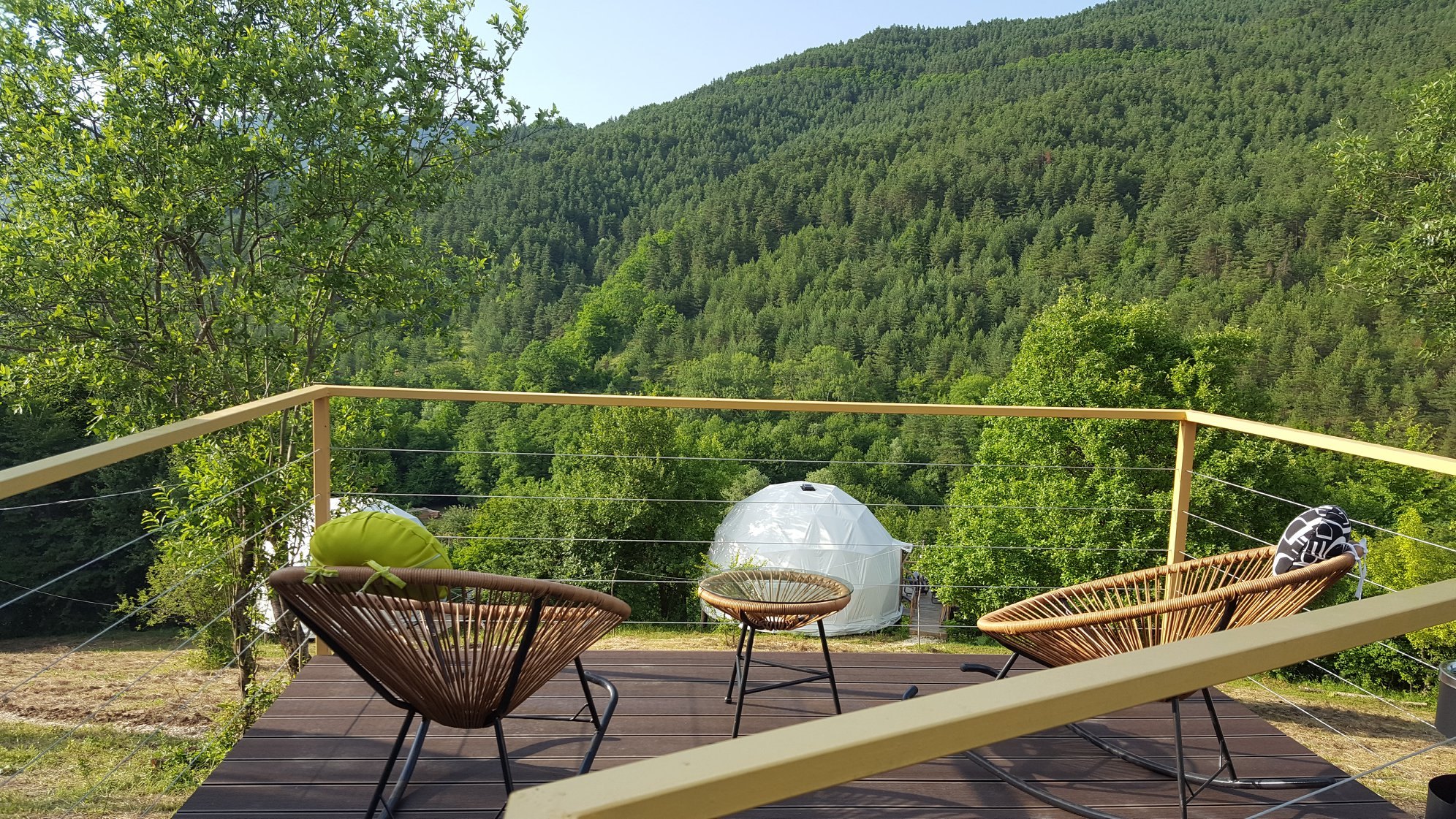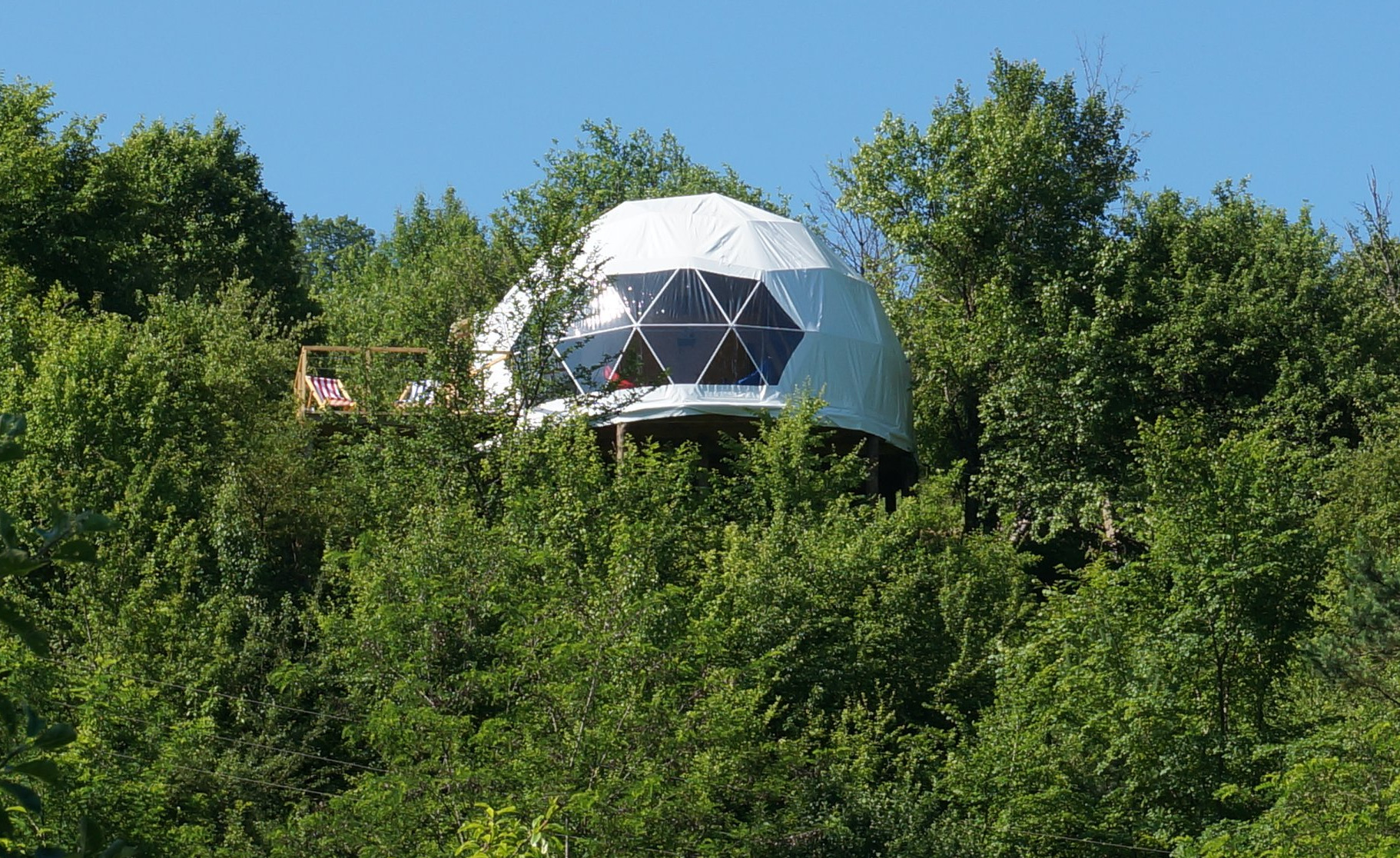 Contact info:
Tel: 593 13 76 13
Facebook:
https://www.facebook.com/glampinggeorgia/
Web:
https://www.glampingeorgia.com
Location: Kvemo Krikhi, 0400 Ambrolauri, Georgia