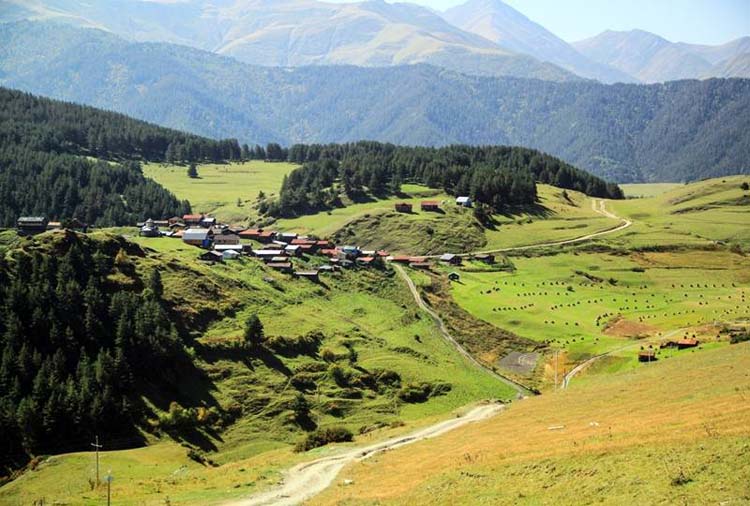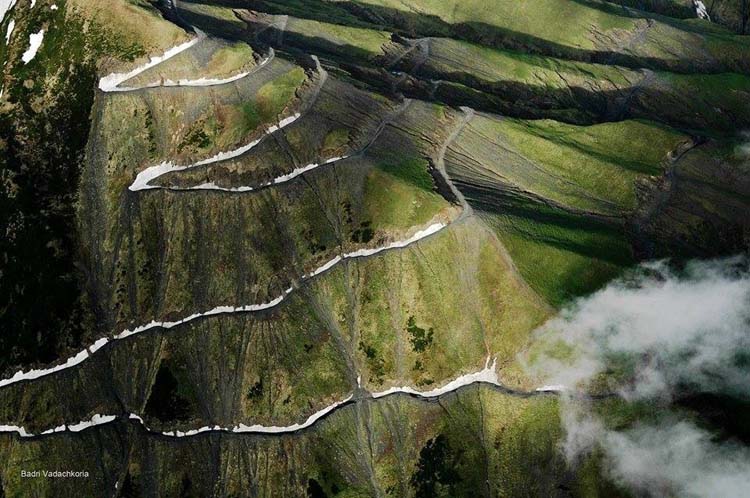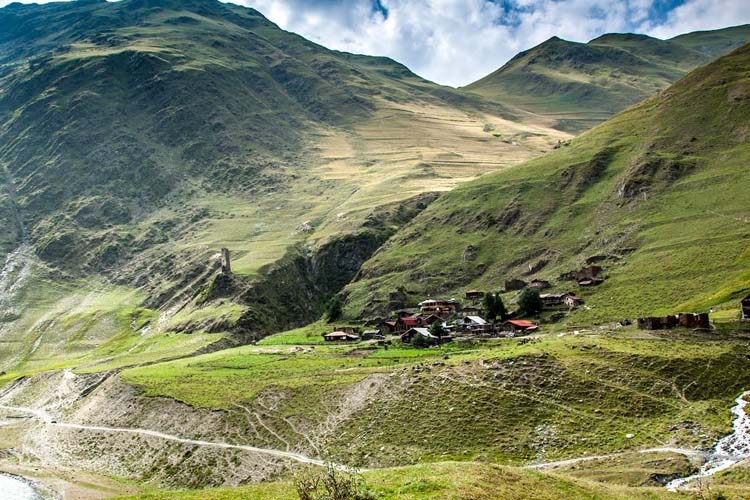 Magic in the Mountains!
TUSHETI
On this page we give all the information you will need for travel to the most remote and hardly accessible, but at the same time most interesting and authentic mountainous regions of Georgia - Tusheti.
Located on the northern slopes of the Greater Caucasus Mountains, Tusheti is bordered by the Russian republics of Chechnya and Dagestan to the north and east and by the Georgian historic provinces Kakheti and Pshav-Khevsureti to the south and west, respectively. The population of the area is mainly ethnic Georgians called Tushs or Tushetians.
Administratively speaking, Tusheti is now part of Akhmeta, itself part of Georgia's eastern region of Kakheti. The largest village in Tusheti is Omalo.
Many Tush families started relocating from Tusheti to the southern regions during the first half of the 19th century, establishing settlements in the low-lying fields of Alvani, situated at the western edge of Kakheti.
Alvani had long served as a wintering ground for Tush shepherds and their flocks, a tradition dating back centuries. In recognition of the Tush people's invaluable assistance in defeating a Persian army at the Battle of Bakhtrioni in 1659, Alvani territory was granted to them in the 17th century.
These families typically followed a semi-nomadic lifestyle, spending their summers high in the mountains with their families and herds of sheep from April to October, and relocating to Kakheti for the winter months.
Traditionally, the Tush people have been known for their expertise in sheep herding, production of Tushetian Guda cheese and high-quality wool being particularly renowned. Even today, sheep and cattle breeding remain their primary economic activities.
Tusheti is widely recognized as one of the most ecologically pristine areas in the Caucasus, making it a sought-after destination for mountain trekkers and nature enthusiasts.
Pork is tabooed in Tusheti. Farmers will not raise pigs and travelers are advised to not bring any pork into the region. Locals will however eat pork themselves when not in Tusheti.
Keep in mind, due to its remoteness and high mountain passes Tusheti can be accessed by land transport only in Summertime, from May till Late October (depending on amount of snow). Also keep in mind that roads are always in bad condition and often get closed for short times due to landslides and for maintenance. The regions can only be accessed by 4WD vehicles.
Some restrictions and recommendations:
- Pork meat is not allowed in the territory of Tusheti
- Ladies are not allowed to go near the holy places (local places of worship)
- Local shepherd dogs often seem to be aggressive (and sometimes are dangerous) but on popular trails they are used to tourists and tamed by their owners. Anyway if you see a sheep herd, beware of the dogs.
- In general, Tushs are mountain people who highly appreciate their traditions and also respect and love guests, in return they ask for similar respect.
Here's a great video by
Radio Free Europe/Radio Liberty
The Secrets And Dangers Of Georgia's Tusheti Road
ROUTE MAP (ONE WAY)
The only drivable road leading to Tusheti is through Abano Pass. Located at 2,950 metres, it is the highest drivable mountain pass in the Caucasus. Due to high altitude and snowy winters the pass is closed from mid-October till mid-April (depending on snow amount and road conditions). The damaged road surface allows only 4x4 cars to go through. Road closures can be frequent, so check conditions before traveling to this area.
The road to reach the pass starts in village Pshaveli and ends in Omalo. It has a length of 84,5km, but the expected driving time is more than 7 hours. It's one of the top 50 highest mountain roads in Europe.
It's a real challenging road and a true test of your vehicle and your stamina because the road abounds in twists and turns with wheels sometimes hanging above the precipice. On the way up to the pass you will see by the roadside a sign pointing out a local Spa - Bathhouse. Although basic, this Spa is known by Tushs as a "giver of life" with the potential for revitalizing the body and sorting out all manner of ailments. You can enjoy the indoor swimming pool with natural hot water for modest price of 5 GEL (2USD). Actually, the name of the pass - Abano (in Georgian means bathhouse) is derived from this facility.
Omalo is a principal village in the historical region of Tusheti.
Omalo is located on a natural plateau, connecting 4 main gorges: Chanchakhovani gorge (with villages Shtrolta, Khiso, and Khakhabo), Chaghma gorge (with the villages Omalo, Shenako and Diklo), Pirikiti gorge (with villages Dartlo, Chesho, Parsma and Girevi), and Gometsari george (with villages Dochu, Beghela, Jvarboseli and Verkhovani).
The fortress of Keselo with its towers is a landmark in Omalo. It served as refuge for families when attacked. In Omalo you will find many guesthouses and a tourist information center where you can get maps and information about the whole area.
Shenako is one of the few villages in Tusheti where locals stay during the winter time (1 family). It is overlooked by Mount Diklo and contains a series of buildings of Georgian folk architecture and the old church of the Holy Trinity. We highly recommend to stay in this village in Oliko's guesthouse.
Diklo is interesting for its fortress, standing on the cliff right at the border with Daghestan. Also here you can start a one day walking trail leading through remote village Chigo down to village Dartlo (the trail is very long and requires good physical shape).
Dartlo is the most popular village in Tusheti and one of the biggests. Its situated on the beautiful alpine slopes of Caucasus Mountains at the level of 1850m; Apart from well preserved towers and stone houses here you will find lots of homestays, cafe with a perfect location, camping areas, tasty mountain cheese, view to waterfall, interesting petroglyphs. There are both Pagan and Christian religious buildings in Dartlo which are both considered as sacred. Dartlo used to be the main village to hold the court and council for the whole region.
Currently, 9 familys live in Dartlo. Don't miss visiting abandoned village Kvavlo overlooking Dartlo. Short but steep ascend from 1850 to 2150 m.
Chesho is a next small village with several guesthouses, good place to rest on the way to Girevi.
Village Parsma offers beautiful towers and amazing views of the valley.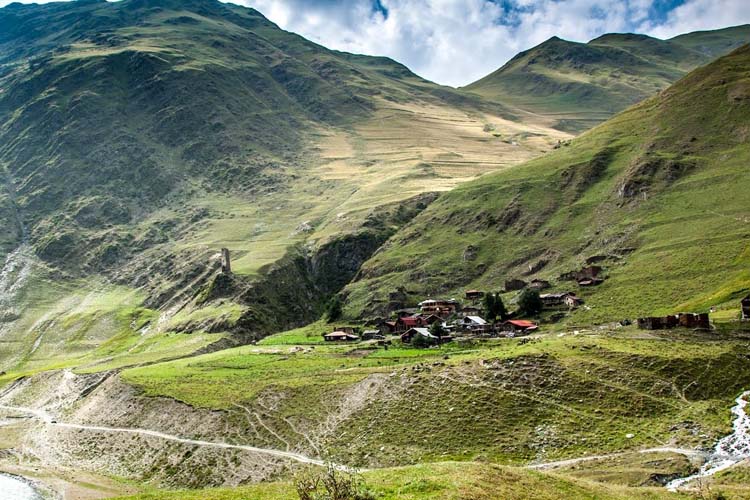 Girevi is a last inhabited village in the valley, has several guesthouses and a military blogspot (Must check in, if you are heading towards Atsunta pass and Khevsureti trail) can be reached by crossing the river by car or rocky narrow trail by foot. From here we recommend taking a 2 hour trip towards abandoned village Chontio or even further 3 day trek over Atsunta pass towards Khevsureti province village Shatili.
One of the highest walking passes (3430m) in Georgia connecting Tusheti province with Khevsureti region. Offers amazing landscapes although requires pretty strenuous 3 day trekking time to reach the other side. No phone connection but beautiful landscape. In Tusheti we recommend also visiting Gometsari george with villages Jvarboseli and last one in the valley Indurta.
Here's a nice video that features trail from Tusheti, over Atsunta pass (3430m) to Khevsureti Region, village Shatili.
Thanks to the author, Konrad Fersterer for great footage!

For information and details about trekking in Tusheti we highly recommend following website: