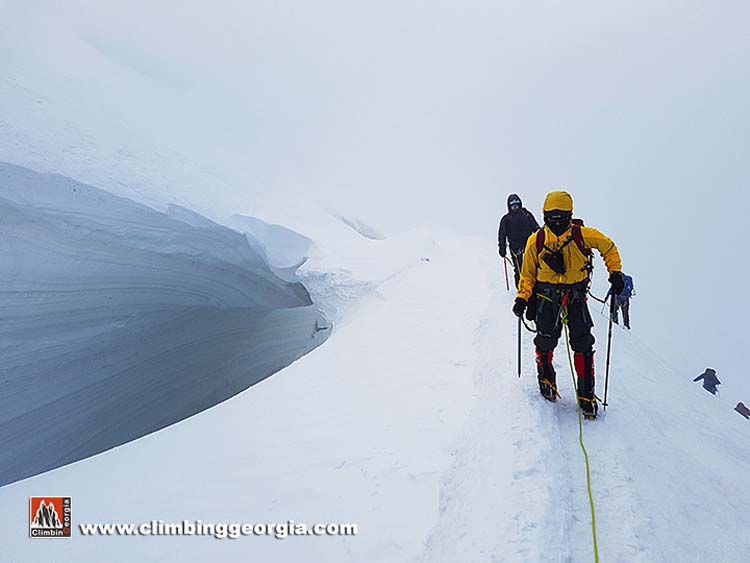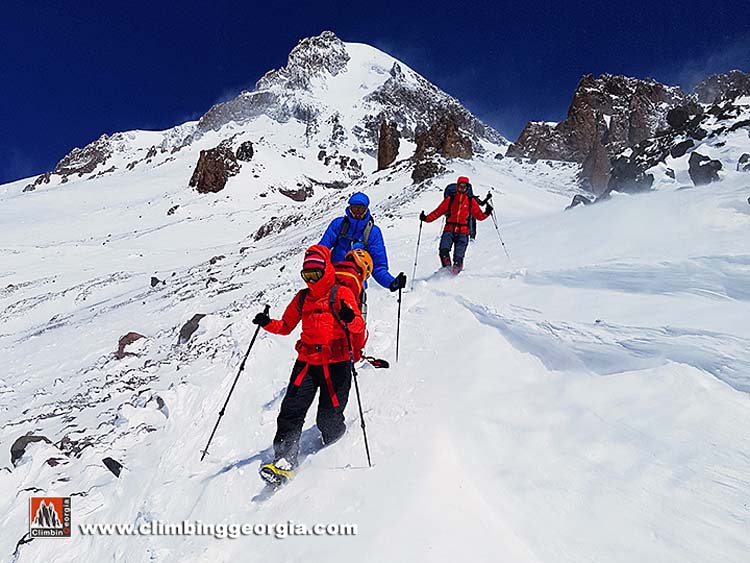 Information on climbing Mount Kazbek
CLIMBING MT KAZBEGI (5048m) - 6 DAYS
Tour Type: Alpine tour
Location: Start from Tbilisi, Stepantsminda (Kazbegi), Betlemi Hut (Meteostation) – Mt. Kazbek Summit.
Distance: Walking distance: Stepantsminda–Meteostation 17km; Meteostation–Summit 7 km.
Tour Duration: 6 days, 5 nights.
Tour Description: Mt. Kazbek is a highlight of Georgia. It's one of the highest mountains in Caucasus and very popular summit for climbers from all over the world. Ascend does not require special mountaineering experience but basic acquaintance with glacier equipment and movement on a glacier is required. Good physical shape and high altitude tolerance will be very helpful.
Day 1: Drive to Stepantsminda (optional, can start from Stepantsminda depending on your preferences).
At 09:00 we depart from Tbilisi to Stepantsminda (village Kazbegi). On the way we stop at Ananuri Monastery Complex, drive along Georgian Military Highway passing Gudauri to Stepantsminda. Free time in the evening. Overnight at Guesthouse.
Day 2: Walking from Stepantsminda – Gergeti Church – Betlemi Hut (Meteostation).
Departure to Betlemi Hut (Meteostation). In order to bring food and personal supplies to the station it is possible to hire a horse (optional, extra cost).
From Stepantsminda to Gergeti monastery possible to hire a transfer (4X4 vehicle). Walking time 7-8 hours. Free evening. Overnight at the hut.
Day 3: Acclimatization Day
Preparation for the ascend; Ascend from the hut (3657 meters above the sea level) to the 4000 meter point - small church. After a short break return to the station. Free evening. Overnight at the hut.
Day 4: Summit Day
Start the ascent in the morning 04:00 am. 12-14 hours hike. After short break return to the Betlemi Hut (Meteostation). Free evening. Overnight at the hut.
Day 5: Extra Summit Day
In case of bad weather on day 4, reserve day for summit. Free evening. Overnight at the hut.
Day 6: Return to Stepantsminda and / or Tbilisi.
In the morning walk down to Stepantsminda (approximately 3-4 hours). On the way stop at the Gergeti Trinity Church and after drive to Tbilisi. End of the tour.
Required Equipment:
- Crampons
- Harnesses
- Ice-axes
- Rope upon
- Personal mountain gear and clothes (sunglasses, warm waterproof outfit, gloves, hat, boots, etc.)
For this tour we recommend two guide groups in Georgia, please contact any of them for more details.
Please note this is example of the tour to make it easy for you to plan your trip.
CONTACT INFORMATION
Company Climbing Georgia:
They provide services of experienced and professional Georgian guides
Website: http://www.climbinggeorgia.com/
Email: climbinggeorgia@gmail.com
Shota Komakhidze: +995 593 300599
George Nonikashvili: +995 599 290366
Or
Individual Guides:
- Tato Nadiradze
tatonadiradze@gmail.com
+995 571 82 92 96
- Guga Dabrundashvili
gugadabrunda@gmail.com
+995 557 300 700