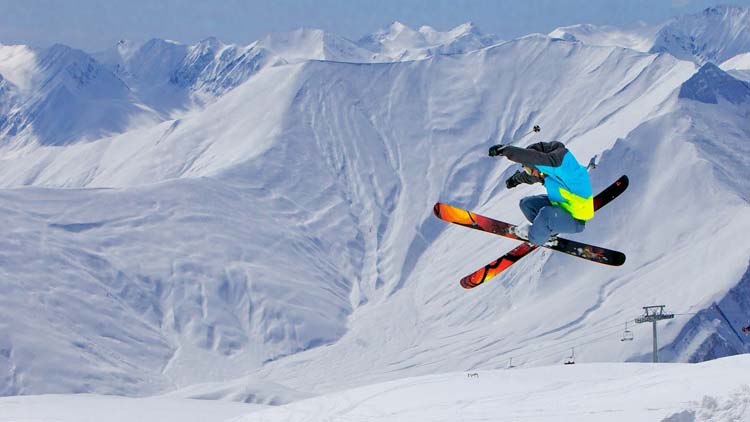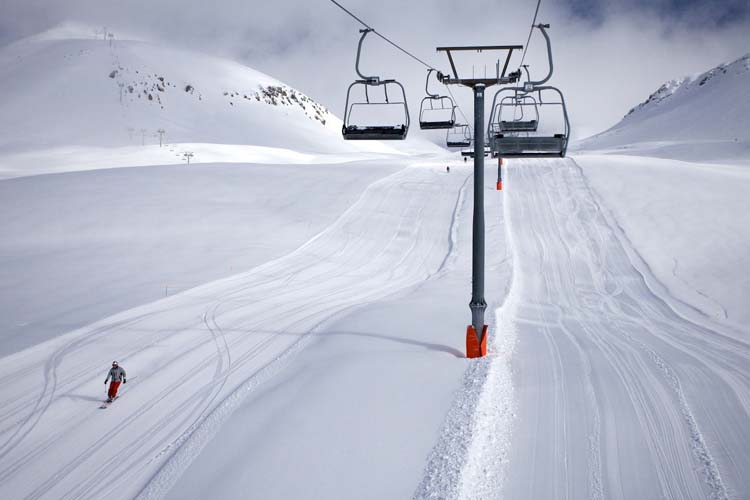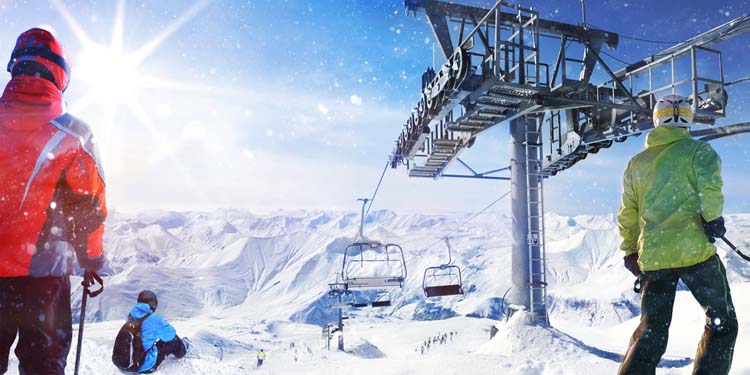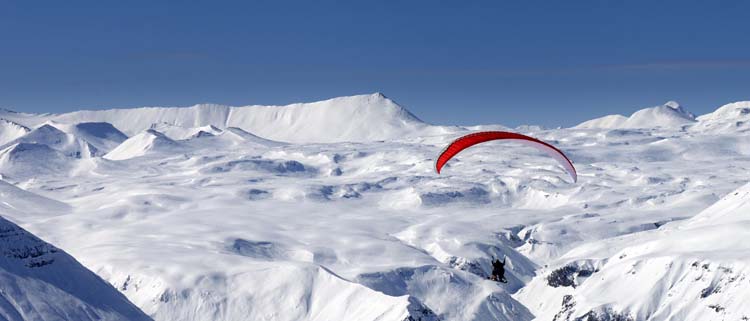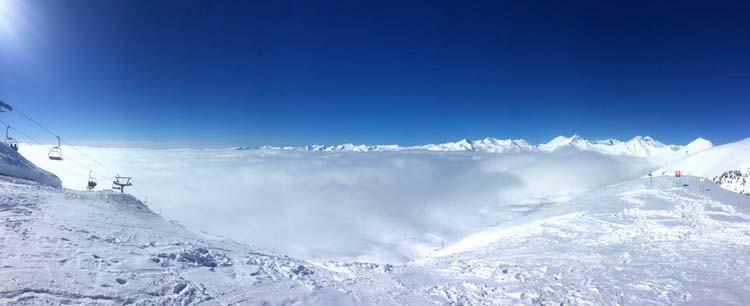 Most Popular Ski Resort in Georgia
GUDAURI SKI RESORT
Georgia boasts for its skiing resorts and winter destinations.
In this small country you can find any kind of ski experience: starting from standard high snow quality pist ski resorts up to cat skiing, heli skiing, ski touring, alpine skiing.
In this section we discuss Gudauri - most popular of all ski resorts. Please also check out our other articles: Bakuriani Ski Resort; Goderdzi Ski Resort; Svaneti Ski Resorts; Heli Skiing; Ski Touring.
At an altitude of 2 200 meter above sea level, Gudauri is located in the very heart of the Caucasus Mountains.
Surrounded by some of Europe's highest peaks it has some of the finest high-altitude powder in Europe and offers downhill skiing up to the 4 200 meter level. The deep snow and low amount of stones and avalanche risk make Gudauri an ideal place for freeriding.
With dozens of slopes, Gudauri has trails for skiers from beginners to professionals. Ski runs, most between 2000 and 3 300 meters above sea level, cover a total of 57 kilometers. For experienced skiers Gudauri provides four FIS approved types of run: slalom, giant slalom, super slalom and speed skiing
So, why should you choose Gudauri & Georgia?
Because...
- It is very easily accessible from Europe (cheap flights to Kutaisi & Tbilisi, short distance to resort)
- Georgia and Gudauri is one of the cheapest and affordable places to live and travel to
- High altitude of resort ensures good quality snow
- Pretty decent infrastructure and recreation options for ski enthusiasts
- Exotic, post-soviet country in the middle of Europe and Asia, offers great combination of skiing, travel-exploration and fun :)


Ski Season: Mid December - End of April
Ski Lifts Working Hours: 10:00 - 16:00 (Weekdays) / 10:00 - 17:00 (Weekends)
Ski Area: Highest point - 3250 m & lowest station - 2000m
Vertical Drop: 1250m
Length of Tracks: Total 57km, 8 blue, 12 red, 3 black (+new Kobi Gudauri tracks)
Length of the Longest Track: 7 km
Ski Lifts: 4 T-Bars, 7 chairlifts, 1 gondola + 3 new Kobi-Gudauri gondolas
Night Skiing: Friday, Saturday- 20:00-22:00
Distance: From Tbilisi - 120km; From Kutaisi - 295km
Official Website: http://gudauri.ski/eng; https://www.facebook.com/Gudauri.ski/


Updates in Gudauri - Season 2019

- Since 2019, Gudauri has 6 new (1st, Soliko, Kudebi and +3 Kobi-Gudauri) and 1 reconstructed cable cars
- Total capacity of Gudauri resort increased by X 3.5
- New Route "Kobi-Gudauri" apart from additinal new ski terrain, offers fast and easy transportation from Kazbegi (Village Kobi) to Gudauri, bypassing Jvari pass drive, which in winter often gets closed due to avalanche danger.
- Kobi Gudauri route has total 3 cable cars, of 7.5km length
- 2 of these cables are for skiing purposes and one for transportation
- With this additional route, ski terrain of the whole resort increased by 20%
- Year 2019 held the second phase of artificial snow machine installations.

Gudauri is accessible all year round. Distance from Tbilisi is 120 km. The journey usually takes 2 hours.
Public Transport
Daily mini-buses depart to Gudauri from Tbilisi's Didube bus station at 4 Karaleti str. approximately every hour.
Price of journey is 10 GEL.
Private Transfer
We offer private transfers for the best possible prices
Transfer from Tbilisi to Gudauri (driver included) with Toyota RAV4/ 3 seats - 105 EUR (one way)
Transfer from Tbilisi to Gudauri (driver included) with Toyota Sequoia / 5 seats - 120 EUR (one way)
For Booking a Transfer Contact Us
E-mail: info@georgia4you.ge
Address: 24a Shalva Dadiani st. (near to Freedom Square)
Landline: +(995 32) 230 60 95 (11am-6pm)
24H service: +(995) 557 17 11 44 (24/7)
Viber: +(995) 557 17 11 44
WhatsApp: +(995) 557 17 11 44

Spa and Fitness Centres in Gudauri
- Following hotels offer spa centers (pool, sauna and / or Jacuzzi): Gudauri Hut, Club 2100, Tony, Corss Pass, Panorama, Aragvi, Happy Yeti, Truso Freerider and Marco Polo.
In Marco Polo you can buy the daily entry and enjoy swimming pool, Jacuzzi, sauna, massage, bowling, billiard facilities and even tennis courts.
- Russian Bathhouse in New Gudauri: Hot Russian sauna with services of scrubbing and massage
Paragliding
You can order paragliding from our favorite
- Irakli Kapanadze: +995 595 424 298 / i_kapanadze@yahoo.com
or
On spot located company FLYCAUCASUS which also offers speed riding courses.
Snow Biking
KTM bikes Rental (with special snow equipment) and tours.
Snow park located in Lower Gudauri for snowmobiles and snowmobile rental.
Located near the road in Lower Gudauri.
Food & Leisure in Gudauri
Gudauri is a rapidly developing resort, plenty of bars and restaurants are situated on and around skiing areas and pists.
Après-ski you can enjoy your meal at following restaurants (most of them belong to subsequently named hotels):
- Club-2100 - located at the altitude of 2100 meters above sea level, easily seen from the road. Offers cuisine mostly Georgian with some elements of European. Nice atmosphere, good and fast service, often live music, great views, terrace and a fireplace.
- Restaurant MAGI Style - located on the first floor of 5 storied MAGI Style building. Offers Georgian, Ukrainian and European cuisine. Nice atmosphere, good views, fireplace, space for children and until 4pm you can hire here a nanny. Nonsmoking.
- Restaurant MarcoPolo - In the premises of the most high class hotel at the resort. Service and atmosphere is corresponding. Hotel also offers bowling bar and a lounge bar with a fireplace. On weekends from 10pm to 3 am parties are held with free admission.
- Restaurant Carpe Diem - In the premises of hotel Carpe Diem, very close to second ski lift. Georgian and European cuisine. Once a week live band and after 10pm DJ.
- Tavern Khreki - Situated a bit lower to main supermarket "Smart". Offers Georgian cuisine, including Khinkali. Simple traditional design, has nonsmoking hall, always full of people, consequently not very fast service.
- Tavern Gagieti -Situated a bit higher from main supermarket "Smart". Offers Georgian cuisine. Simple traditional design, also always full of people.
- More Restaurants - Hotel Truso Restaurant, Hotel Monte Restaurant, Hotel New Gudauri Restaurant and etc.
SKI & SNOWBOARD INSTRUCTORS
In Gudauri local Ski and Snowboard instructors are located near the first lift and gondola, most of them are wearing a vest with a sign - INSTRUCTOR.
Although you will easily find them on spot, we recommend booking services of our trusted company:
Gudauri Freeride Tours
.
For your children there are dozens of ski schools, which provide 1-2 week ski gatherings.
Purchase and rental of new and modern ski equipment is possible in Gudauri through ski schools, local intermediaries, hotels and by the ski lifts...
We recommend to rent your equipment in Tbilisi, you will have a better choice and it will cost you less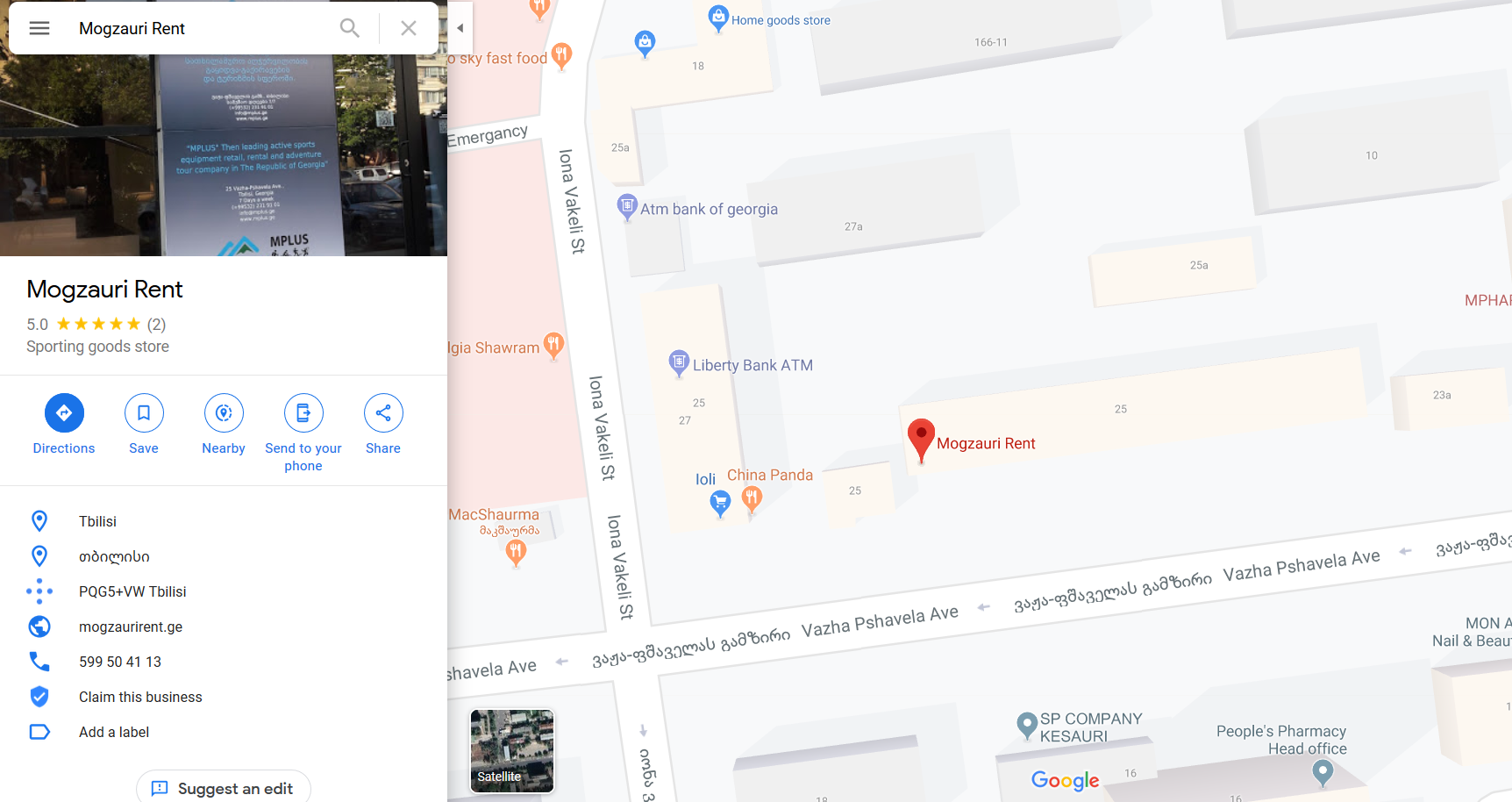 (+995) 599 50 41 13 (GE)
(+995) 568 65 99 85 (EN)


(+995) 568 65 99 85 (EN)
info@mplus.ge

Here you can rent full sets of equipment of following brands: Head, Elan, Rossignol, Volkl, Atomic, Nordica, Salomon. Accessories can also be rented or bought. Usual price range is 20-30 GEL per day for standard package (skis, boots, sticks or snowboard and boots); 50 GEL per day for VIP package (speed skis, freeride skis and etc.) 5 GEL per day for goggles, gloves or helmet. Here you can receive ski maintenance services, snowboard and ski touring equipment rental services.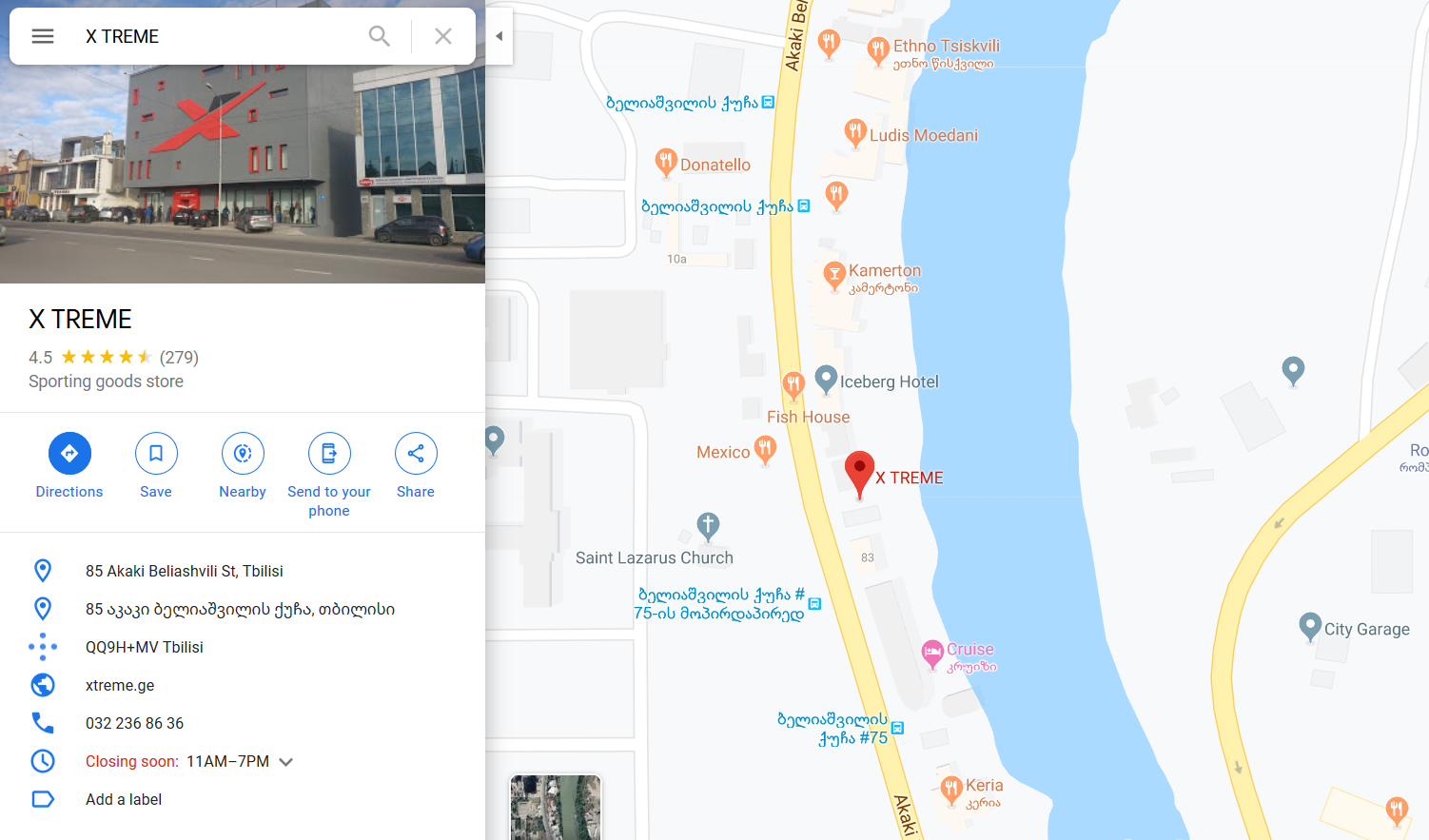 Shop and Rental X-Treme


- IN TBILISI: 85i Beliashvili St. (near Digomi bridge), Tbilisi, Georgia
Pin on Google map: https://goo.gl/maps/vTBaV28dBa8uABGV7
(+995 599) 030314

Located in Tbilisi near the exit of town (direction to north - Gudauri) at 85 Akaki Beliashvili St.
Likewise you can rent full sets of equipment of brands: Head, Tyrolia, Atomic, Salomon and etc.
RESCUE SERVICES & AVALANCHE SAFETY
All ski areas of Gudauri are patrolled by experienced ski rescue and first-aid teams. Emergency helicopter evacuation to Tbilisi is also available. A hospital in Gudauri can provide only emergency immediate help.
Daily ski pass does not include insurance, therefore it's highly recommended you arrange your own insurance.
In case of emergency at the resort you should dial Georgian Emergency Service Number - 112.

Avalanches in Gudauri are very rare but still possible.
Gudauri is a resort situated in the heart of big Caucasus range, slopes are mostly facing south, and the surrounding mountains are protecting from strong winds. All this make very good conditions for skiing and snowboarding and freeride is developing very rapidly.
If you decide to ski off piste or on mountains surrounding the resort we recommend hiring a local guide. Otherwise please make sure that you are fully capable of assessing the dangers of powder slopes and avalanches.
Highly Recommended Equipment:
- Freeride ski/snowboard (available for hire)
- Backpack with fastening for ski or snowboard
- Transceiver, avalanche probe, shovel (available for hire)
- Helmet
For more Information about freeride opportunities, guides and tours in Gudauri please check out our page
FREERIDE SKIING