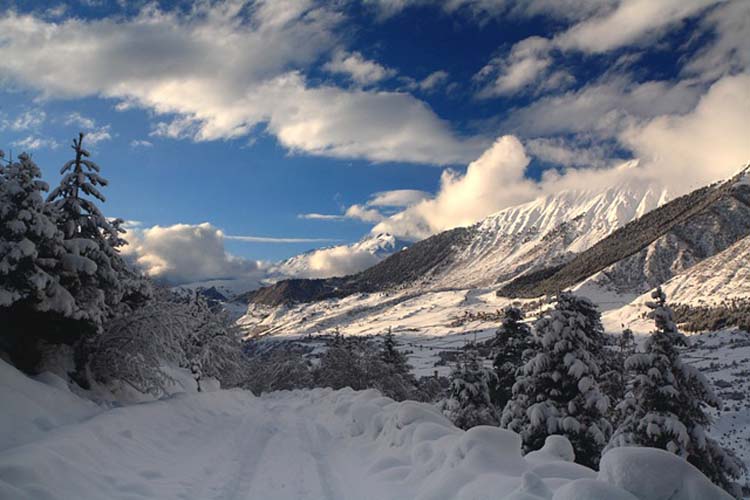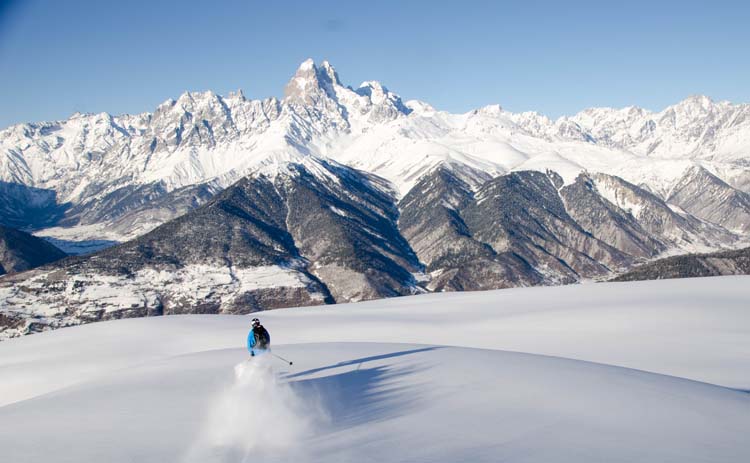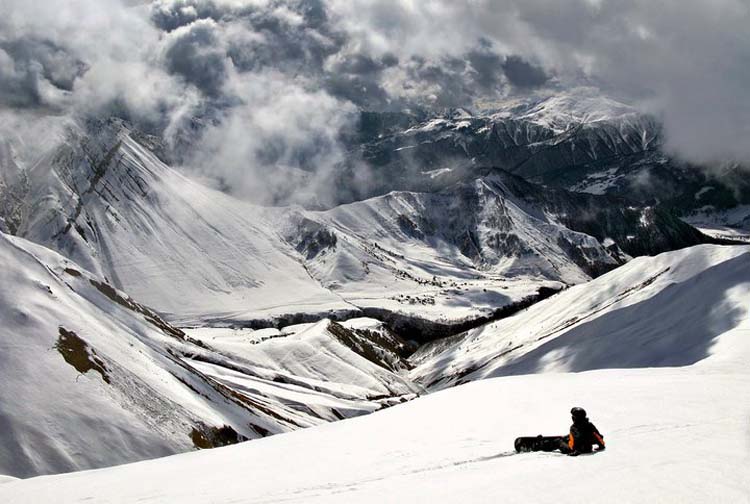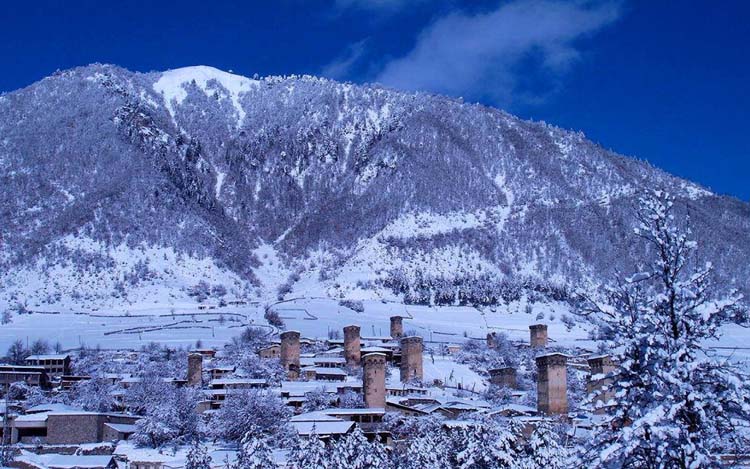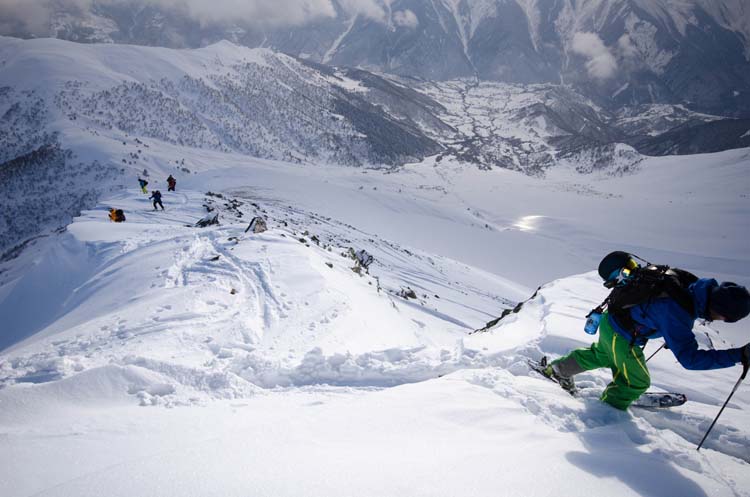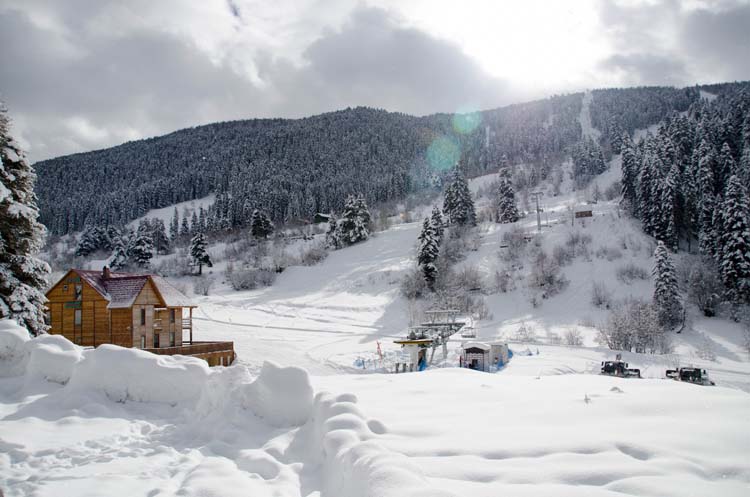 Highest Mountains & Magical Atmosphere
SVANETI SKI RESORTS
Georgia boasts for its skiing resorts and winter destinations.
In this small country you can find any kind of ski experience: starting from standard high snow quality pist ski resorts up to cat skiing, heli skiing, ski touring, alpine skiing.
Svaneti starts to be the major Georgian magnet for mountain lovers not only in summer, but also in winter. Previously tourists, especially those who are fond of hiking and exploring ancient cultures, headed to this remote mountainous region from July to late September. Now, proud Svanetian people welcome their guests from late December till the end of April too.
Surrounded by the highest mountain peaks, covered with legends and myths about hallowed local traditions, Mestia is the heart of the region. From here, routes to further destinations in Svaneti begin. Mestia is also convenient point to stop for overnights and move towards ski lifts, equipment rentals, marked pistes, and virgin slopes. Staying overnight is possible there or in the other villages nearby. In Mestia, you can find simple guest-houses and mid-range cozy hotels.
HATSVALI SKI AREA
First Svanetian resort, Hatsvali was opened in 2011 it is 8 km away from Mestia and since 2017 can be reached by a cable car from edge of Mestia. Hatsvali offers runs for beginners and intermediates. Lower lift station is located at an altitude of 1865 meters; the equipment rentals are nearby. Leitner ski lift will take you up to the mountain Zuruldi (2347 meters above sea level) within 10 minutes. At the resort there are also two smaller ski lifts 600 and 800 meters long. There are three pistes in use: red (1900 m), blue (2600 m) and one for the beginners (300 m). If you are for extreme feelings, go ahead with freeriding, backcountry, and skitour.
TETNULDI SKI AREA
The second Svanetian resort, is in use since December 2015. Its name derives from name of legendary mountain. Located 15 kilometers away from Mestia, Tetnuldi is almost as big as Gudauri. There are three new POMA lifts, which bring up the guests to the altitude from 1600 to 3165 meters, and several developed pistes with the longest one 9.5 km long. Tetnuldi provides excellent opportunities for freeriding and truly stunning views to the surrounding.
Apres-ski and accommodation are located in Mestia, so you would need to drive up to the resort. However, the low cost of equipment rental and ski passes smoothes this temporary inconvenience.
Ski Season Opening Dates: Tetnuldi & Hatsvali - December - April
Cable car connecting Mestia with Hatsvali operates since 2017 December 23
Main Slopes: Hatsvali & Tetnuldi
Ski Lifts Working Hours: 10:00 - 16:00 weekdays / 10:00 - 17:00 weekends / 18:00-20:00 night, weekends.
Ski Area: Hatsvali highest - 2347m & lowest - 1865m; Tetnuldi highest - 3165m & lowest - 1600m
Vertical Drop: Hatsvali - 550m; Tetnuldi - 900 m
Length of Tracks: Hatsvali - Total 4.8km, (red-1.9, blue - 2.6 and one for the beginners 0.3); Tetnuldi - Total 25km.
The Length of the Longest Track: Hatsvali - 1.9km; Tetnuldi - 9.5km.
Ski Lifts: Hatsvali - 1 T-Bar; Tetnuldi - 3 POMA; Hatsvali-Mestia - 6 Deoppelmayer.
Distance to Mestia: From Tbilisi - 480 km; From Kutaisi - 240km; Batumi - 270km; Zugdidi - 140km.



Mestia is 400 kilometers from Tbilisi and can be reached via the city of Zugdidi, journey takes 7-8 hours by road.
Public Transport to Mestia

- Minibus
Departs daily from 6 am to 8 am from the square nearby the "Children's World" department store (next to the railway station).
Ticket cost about GEL 40-50 per person. Travel time of 8 hours.
From Kutaisi minibus departs from the bus station. Ticket price - 25 GEL. If this day is no direct minibus to Mestia, you can get to Zugdidi and then transfer to a minibus or a taxi to Mestia.


- Train
A night train from Tbilisi to Zugdidi arrives in the city early in the morning, just in time for the mini-bus to Mestia. The train leaves from Tbilisi central railway station (2, Vagzali sq. Tbilisi).

- Air
The local airport in Mestia has been refurbished and weather permitting a service is being operated by Georgian airline "Service Air" using Czech L410 planes three times a week from Natakhtari village, near Tbilisi, to Mestia – on Mondays, Wednesdays and Fridays. The flight lasts 45 minutes and costs 65 GEL one-way.
Be warned that places are always limited and should be booked way ahead of flight date. If you get a room in a plane consider yourself very lucky.
To Book Private Transafer Contact Us:
Address: 24a Shalva Dadiani st. (near to Freedom Square)
Landline: +(995 32) 230 60 95 (11am-6pm)
24H service: +(995) 557 17 11 44 (24/7)
Viber: +(995) 557 17 11 44
WhatsApp: +(995) 557 17 11 44
Apart from Skiing there are plenty of other leisure options in Svaneti area, below we have listed several most popular suggestions:
- Hiking: village Mazeri and Ushba waterfalls, Chalaadi Glacier, Qoruldi Lakes
- Horse Riding in the surrounding villages and mountains
- Culture: Don't miss visiting History Museums of Mestia, Local towers in Mestia - Svanetian House, trip to Ushguli (3 hours drive from Mestia)
Food & Nightlife
Mestia is a very popular tourist destination in Georgia, therefore there are plenty of local restaurants you can visit for Georgian & local cuisine. The most recommended one is cafe Laila which sometimes offers live music in the evening. There is a nice restaurant in Hatsvali resort at the top of the ski lift - Zuruldi, it offers tasty Georgian cuisine and magnificent views of surrounding mountains.
Purchase and rental of new and modern ski equipment is possible in Gudauri through ski schools, local intermediaries, hotels and by the ski lifts...
We recommend to rent your equipment in Tbilisi, you will have a better choice and it will cost you less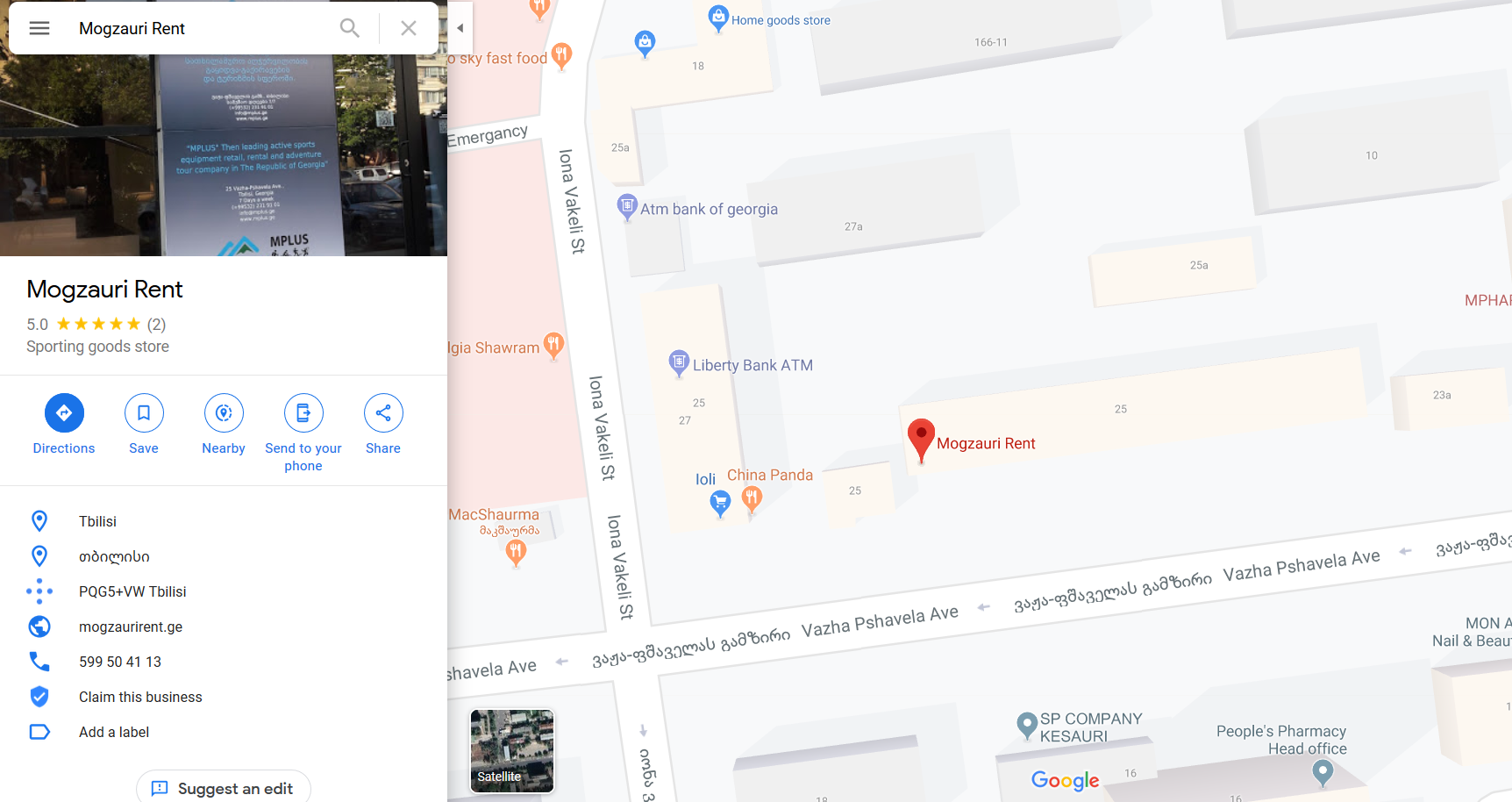 (+995) 599 50 41 13 (GE)
(+995) 568 65 99 85 (EN)


(+995) 568 65 99 85 (EN)
info@mplus.ge

Here you can rent full sets of equipment of following brands: Head, Elan, Rossignol, Volkl, Atomic, Nordica, Salomon. Accessories can also be rented or bought. Usual price range is 20-30 GEL per day for standard package (skis, boots, sticks or snowboard and boots); 50 GEL per day for VIP package (speed skis, freeride skis and etc.) 5 GEL per day for goggles, gloves or helmet. Here you can receive ski maintenance services, snowboard and ski touring equipment rental services.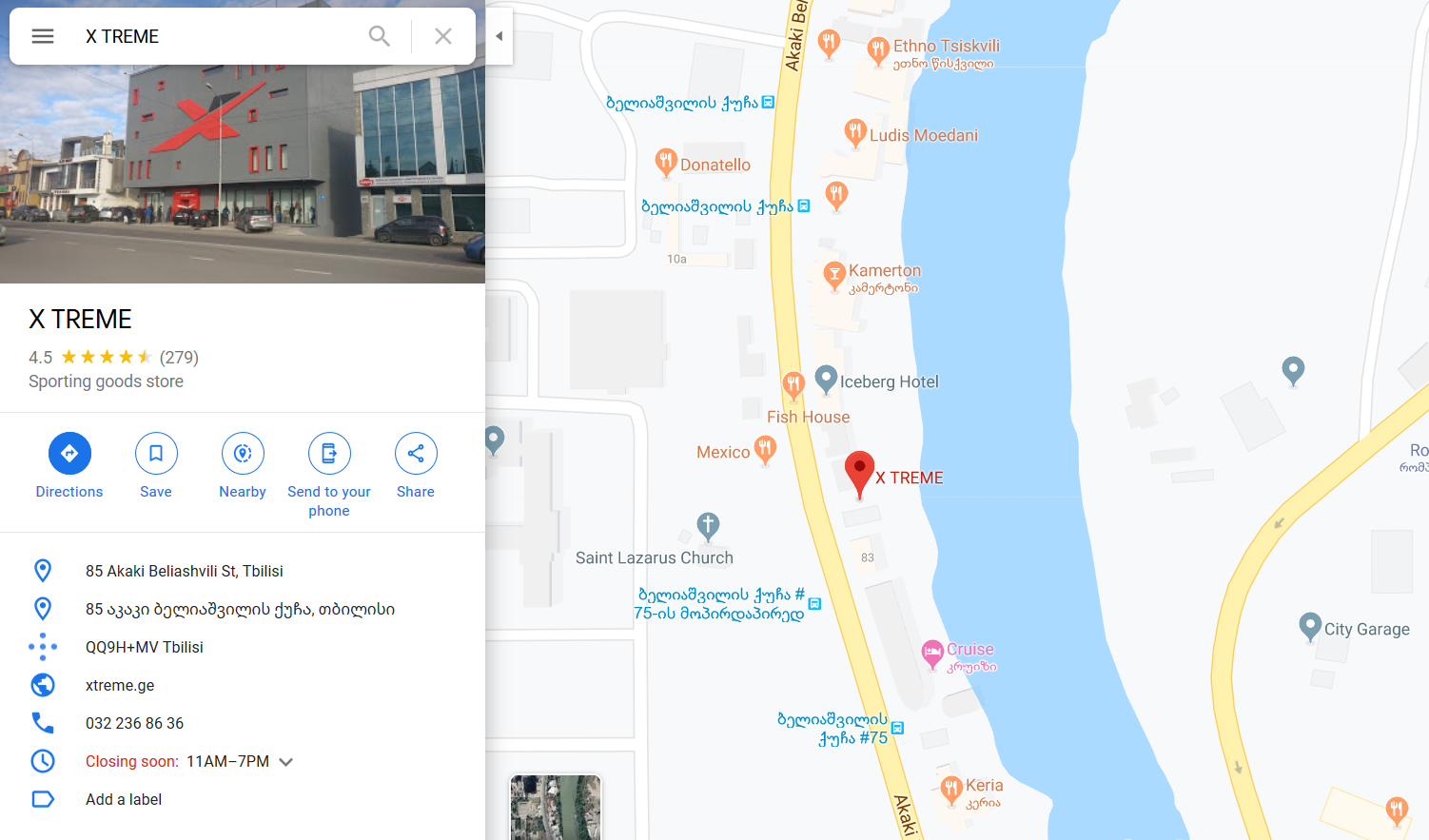 Shop and Rental X-Treme


- IN TBILISI: 85i Beliashvili St. (near Digomi bridge), Tbilisi, Georgia
Pin on Google map: https://goo.gl/maps/vTBaV28dBa8uABGV7
(+995 599) 030314

Located in Tbilisi near the exit of town (direction to north - Gudauri) at 85 Akaki Beliashvili St.
Likewise you can rent full sets of equipment of brands: Head, Tyrolia, Atomic, Salomon and etc.
RESCUE & AVALANCHE SAFETY
All ski areas of Svaneti are patrolled by experienced ski rescue and first-aid teams. Emergency helicopter evacuation to Tbilisi is also available. A hospital in Mestia can provide only emergency immediate help.
Daily ski pass does not include insurance, therefore it's highly recommended you arrange your own insurance.
In case of emergency at the resort you should dial Georgian emergency service number - 112.
Svaneti is high mountainous region and offers unlimited opportunities for skitouring and freeriding, although keep in mind that avalanches and dangerous situations are very common.
If you decide to ski off piste and on mountains surrounding the resorts we recommend hiring a local guide.
For more information and contacts please check out our
Ski Touring
and
freeride skiing
pages.
Otherwise please make sure that you are fully capable of assessing the dangers of powder slopes and avalanches.

Highly Recommended Equipment:
- Freeride ski/snowboard (available for hire)
- Backpack with fastening for ski or snowboard
- Transceiver, avalanche probe, shovel (available for hire)
- Helmet